TRAFFIC facilitates enforcement training workshop in Guangxi
Guilin, Guangxi Province, China, November 2015—More than 60 enforcement officers received training on "Combatting wildlife smuggling" during a two-day workshop organized by Guangxi Provincial Interagency CITES Enforcement Coordination Group (PICE-CG), held in co-operation with TRAFFIC and other non-governmental organizations (NGOs) late last month. 
---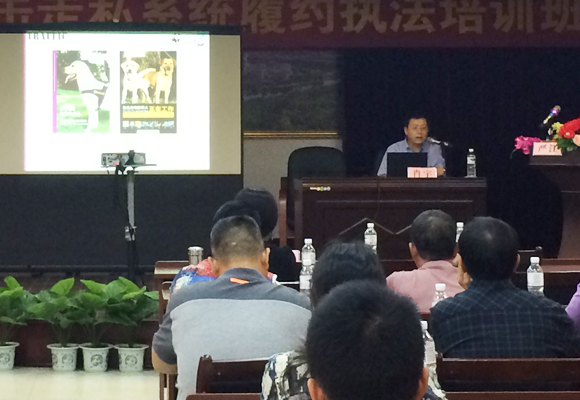 Officers from more than 20 enforcement departments were present, including: Forest Police, Customs, Border Police, Industry and Commerce Administration, Armed Police and the Inspection and Quarantine Bureau. 
Representatives from the provincial and local judiciary spoke about wildlife smuggling and illegal trade cases in Guangxi province. 
"There is ever rising complexity and demands on the judicial system for dealing with wildlife smuggling cases; we offer our assistance from the outset of investigations, to help cases run smoothly," said Procurator Mr. Li Zhimiao. 
Xiao Yu, Programme Manager for TRAFFIC in China, spoke about market survey findings at key sites in Guangxi province, where there has been a remarkable decrease in open illegal wildlife trade in Beihai and Dongxing. 
Xiao Yu chaired a discussion where representatives from the judiciary, Marine Police and Forest Police spoke about the challenges faced in deterring illegal wildlife trade. Meeting attendees agreed on the important role of the logistics industry in helping to disrupt illegal wildlife trade chains and the priority for more wildlife crime cases to result in court convictions. 
"Guangxi government has given high priority to combatting wildlife smuggling and illegal trade," said Mr. Yan Jiang, Director of the Nanning branch of China's Convention on International Trade in Endangered Species of Wild Fauna and Flora Management Authority (CITES MA). "Since 2011 the Guangxi government has instigated five special actions to deter wildlife criminals, resulting in many wildlife crimes being detected and addressed." 
"Guangxi Province is located on the border between China and Viet Nam where the pressure to combat wildlife smuggling and illegal trade is very high," said Zhou Fei, Head of TRAFFIC's China Office. "TRAFFIC appreciates the consistent enforcement efforts made by the authorities in Guangxi and we stand by ready to provide every assistance to the Guangxi government to curb wildlife smuggling."
A species identification manual funded by CEPF and developed by Nanning CITES MA, TRAFFIC and other NGOs was distributed to all attendees. This manual will enable enforcement officers to increase the efficiency of their daily operations.  
---
Notes:
TRAFFIC's capacity building work in Guangxi Province has been generously supported by CEPF. It builds on work first undertaken with support from WWF Germany.
---