Powers of Persuasion, sustainable and legal timber trade, e-commerce, forensics and Straw-headed Bulbuls feature in TRAFFIC Bulletin
Cambridge, UK, 1st November 2016—A paper by TRAFFIC's Gayle Burgess published today in the TRAFFIC Bulletin aims to answer the question of what it takes to change consumer behaviour.
---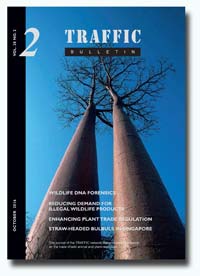 The article is aimed at those designing communications interventions intended to reduce the demand for illegal wildlife products through introducing some of the core behavioural science concepts and theories that can be utilized when creating messaging and approaches to change consumer choice.
In recent years, the conservation sector has begun to embrace the powerful potential for behavioural science to help change consumer choice as a key goal in long-term efforts to stem the demand for threatened wildlife products which is the key driver leading to the poaching of iconic wildlife.
The article is one of the cornerstones of the latest TRAFFIC Bulletin, which is jam-packed with other features covering topics ranging from the recently launched AFRICA-TWIX information exchange system, through to the internationally important population of Straw-headed Bulbuls in Singapore, a species under threat from excessive trapping for the cagebird trade. 
Other topics include e-commerce in wildlife in Viet Nam, wildlife DNA forensics, supporting sustainable and legal trade in timber and non-timber plant products and round-ups of the recent Forum on China-Africa Cooperation (FOCAC) meeting, IUCN Otter Congress and an overview of outcomes of the 17th Conference of the Parties to the Convention on International Trade in Endangered Species of Wild Fauna and Flora (CITES CoP17). 
The TRAFFIC Bulletin is the organization's flagship journal and provides news on the trade in wildlife resources, the latest in related legislation, investigations and seizures, and original reports. 
---
Notes:
To download individual articles from this issue, please visit the TRAFFIC Bulletin page. 
---