Too little done to address trade threat to Asia's tortoises and freshwater turtles
Singapore, 1st March 2011—A meeting of experts on freshwater turtles and tortoises from around the world is reporting dire findings for species in Asia, most of which are bearing the brunt of years of illegal and unsustainable trade.
---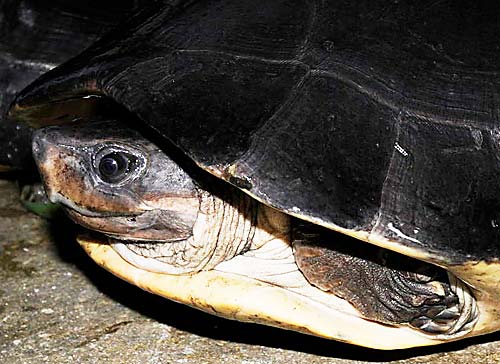 Seventy experts who gathered in Singapore last week for the Conservation of Asian Tortoises and Freshwater Turtles Workshop to evaluate the current status of these species in Asia found the vast majority of them are nearing extinction in the wild, and very little has been done to address the problem.
The meeting reported that illegal and unsustainable trade was the greatest threat to the survival of this highly threatened group of species and found that laws and conventions in place to protect these animals were simply not being enforced.
Tortoises and freshwater turtles are among the world's most threatened groups of animals. Perhaps nowhere is the situation more critical than in Asia. In a recently released report, Turtles in Trouble: the World's Top 25 Most Endangered Tortoises and Freshwater Turtles, from the Turtle Conservation Coalition, 68 percent of those that made the list were native to Asia.
Seventy-two of Asia's 86 species of tortoises and freshwater turtles were assessed at the Singapore meeting, which was hosted by Wildlife Reserves Singapore Group and the Wildlife Conservation Society (WCS), in collaboration with the Turtle Survival Alliance, Kadoorie Farm and Botanic Garden, San Diego Zoo Global and the IUCN SSC Tortoise and Freshwater Turtle Specialist Group.
The Malaysian Giant Turtle Orlitia borneensis, one of the largest freshwater turtles in the world and found only in Peninsular Malaysia, Borneo and Sumatra, is now listed as Critically Endangered due to illegal collection and export for its meat. The Burmese Star Tortoise Geochelone platynota, endemic to Myanmar, is thought to be possibly extinct in the wild due to relentless poaching for the international pet trade.
Another key finding of the meeting was the need for research to be carried out on wild populations to understand their status in the wild, natural history and current distribution better. 
Experts also highlighted the need for increased monitoring of the trade that is considered the leading threat to all of these species. The urgent need for rescue centres and ex-situ assurance colonies was also raised.
Alarm bells were first sounded for Asia's freshwater tortoises and turtles following a meeting of experts in 1999, held in Phnom Penh, Cambodia, alerting the world to what was dubbed the Asian Turtle Crisis.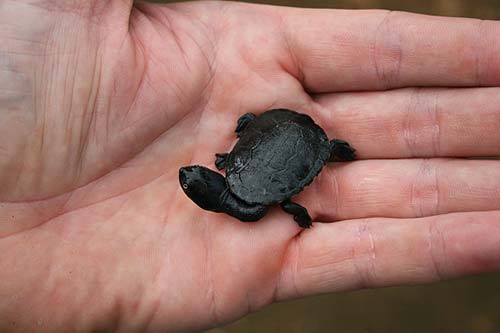 Asia's tortoises and freshwater turtles were being harvested in massive quantities to supply the demand for meat and use in traditional medicines, mostly in East Asia. These species are also in demand as pets. Much of the trade is carried out illegally.
Approximately ten years later, experts again met and found the situation has gone from bad to worse.
Of Asia's 86 species, close to 70 species (approximately 80%) are considered threatened. This is a dramatic increase since these species were assessed in 1999—a 90% increase in the number of Critically Endangered species alone.
While there have been some successes over the past decade, overall the battle is still being lost, said experts who also discussed current threats and prioritized actions necessary to save species from extinction.
"At the current rate of decline, we will lose many of Asia's tortoises and freshwater turtle species forever, if international and national laws and conventions are not enforced," said Chris R. Shepherd, Deputy Regional Director of TRAFFIC Southeast Asia and member of the IUCN Species Survival Commission, Tortoise and Freshwater Turtle Specialist Group. 
"Trade is the single greatest threat to tortoises and freshwater turtles – a species group that has been around since the days of the dinosaurs.  Their future is now in the hands of policy makers, enforcement agencies and conservation bodies. To date, efforts to protect these species have been far from adequate. If effort and motivation to save these species is not greatly increased, we are going to lose many of these species ." 
Shepherd urged authorities to make full use of the Convention on International Trade in Endangered Species of Wild Fauna and Flora (CITES) under which many of Asia's freshwater turtle and tortoise species are protected.
"The last ten years has shown that while it is possible to save these species from extinction, the threat of trade is still present and ever-growing," said Colin Poole, Director, WCS Regional Hub. 
"Of particular concern is the increasing impact of the pet trade on a number of tortoise species and the growth of the demand for dried carapace from softshell turtles sourced primarily in South Asia."
---
Notes:
•    The status of tortoises and freshwater turtles, as well as other useful information can be viewed by species at the IUCN Red List of Threatened Species, at www.iucnredlist.org
•    The report, Turtles in Trouble: the World's top 25+ most Endangered Tortoises and Freshwater Turtles, can be downloaded at http://www.turtlesurvival.org/
---