More than 1 tonne of ivory and rhino horns seized in Thailand
Bangkok, Thailand, 25th February 2011—Thai Customs at Suvarnabhumi International Airport, Bangkok, on Wednesday seized over a tonne of ivory and close to three kilogrammes of Rhino horns in a shipment from Nigeria.
---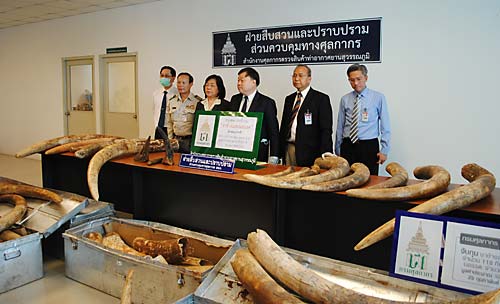 This brings the total ivory seized at this airport since the beginning of 2010 to more than five and a half tonnes.
The ivory and rhino horn passed through Doha, Qatar, and Kuala Lumpur, Malaysia, before reaching Bangkok. 
The illegal cargo's last leg of shipment was from Kuala Lumpur to Bangkok and was meant to be picked up by a company located in Central Thailand. However, the shipment was left unclaimed.
The Suvarnabhumi Airport Cargo Clearance Customs Bureau with the help of officers from the Department of National Parks, Wildlife and Plant Conservation counted 118 elephant tusks and three rhino horns in the 11 cases that made up the shipment.
Customs said the shipment was declared as "craft work" in the airway bill.
This is not the first time a combination of ivory and rhino horns has been seized or transited in Thailand and Malaysia. 
In July 2009, Kenyan authorities stopped a shipment of 16 elephant tusks and two Black Rhino horns which were scheduled to transit in Thailand before being flown to a destination in Lao PDR.
Last August, five rhino horns and two tonnes of elephant ivory bound for Malaysia was seized by authorities in Kenya raising concerns about the former's role in the global ivory trade.
The Elephant Trade Information System (ETIS) lists Thailand as one of three countries most heavily implicated in the illegal global ivory trade and Malaysia as a country of concern because of its role as a significant transit point.
ETIS is the world's largest database of elephant product seizure records, comprising more than 15,400 ivory seizure cases compiled over the last 21 years and is compiled by TRAFFIC on behalf of CITES.
In an effort to address the problem, Customs Authorities in Thailand teamed-up with TRAFFIC to raise awareness among Customs Officers based at airports and other key checkpoints about ways to tackle the illegal ivory trade. 
Thailand's Customs Department has also seen a series of successful raids at Suvarnabhumi Airport since stepping up its efforts.
"The authorities involved are to be congratulated," said TRAFFIC Southeast Asia Regional Director Dr William Schaedla.
"This successful seizure highlights, once again, a flow of illegal ivory through Thailand and Malaysia. Customs authorities from both these countries must work with their counterparts in Africa to stem the tide of elephant and rhino poaching.
"Airport seizures are welcome, but there must also be a concerted long-term effort to investigate and shut down the criminal networks that enable the illegal ivory and rhino horn trade in the region."
---