Tiger farming too great a gamble—World Bank
Geneva, Switzerland, 9th July 2009—Experimenting with Tiger farming is too risky and could drive wild Tigers further toward extinction, the World Bank told a key international wildlife trade meeting today.
---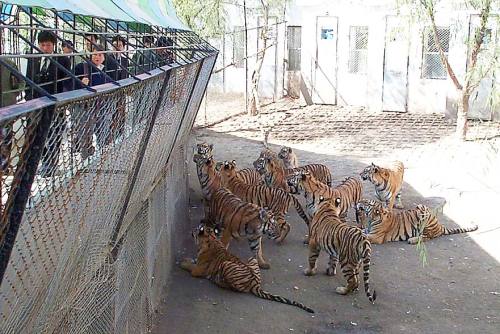 "Extinction is irreversible, so prudence and precaution suggest that the risks of legalized farming are too great a gamble for the world to take," World Bank Director Keshav Varma told the member countries of the 58th meeting of the Convention on International Trade in Endangered Species (CITES) Standing Committee. 
"We cannot know for sure if Tiger farming will work." 
Because of the unpredictability of the market environment and the small number of remaining Tigers in the wild, there is "no room for experimentation," Varma, who leads the World Bank's Global Tiger Initiative, said after the meeting.
"Commercial trading in Tiger parts and its derivatives is not in the interest of wild Tiger conservation."
Tiger trade is prohibited internationally and banned domestically in all of its range countries, including China - historically the largest market for tiger products. 
However, owners of privately run Tiger farms and a contingent of wealthy business men across China have been pressuring the Chinese government to allow legal trade in Tiger parts within China and lift its domestic Tiger trade ban, implemented in 1993.
"Having carefully weighed the economic arguments we urge the CITES community to uphold the ban on wild Tiger products and for all countries to continue to ban the domestic trade of wild Tigers," the World Bank statement said. 
"We also call upon the international community at large to join efforts in providing the necessary technical and other support to the respective countries in phasing out Tiger farming. This is the only safe way to ensure that wild Tigers may have a future tomorrow."
---