Synthetic rhino horn, pangolin trafficking & China's wild plants—all featured in the latest TRAFFIC Bulletin
Cambridge, UK, 29th April 2016—the possible impacts of releasing synthetic rhino horn into the existing illegal market place is a key topic examined in the latest issue of the TRAFFIC Bulletin—the world's only peer-reviewed journal dedicated to studies of global wildlife trade.
---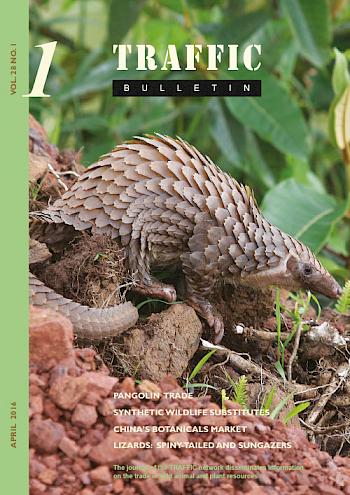 The dire predicament facing the world's rhinos is such that all avenues to reduce demand for horn need to be explored. Among them is a proposal to use synthetic biology to produce substitute "rhino horn" from synthetic keratin and rhinoceros DNA. But would releasing such synthetic horns into the existing market, either overtly or covertly, lead to reduced pressure on wild populations of rhinos or increase demand for the "real thing"? A feature-length article examines the pros and cons of this approach as part of a wider examination of the role of synthetic and substitute products in the wildlife trade. 
Pangolin species are among the most heavily illegally traded mammals in the world with an estimate one million plus traded illegally since 2000, largely to meet demand in Asia for their meat and scales for medicinal purposes. Two articles in the TRAFFIC Bulletin focus on pangolins—one highlights the growing trade in African pangolins to satisfy demand in Asia and the other presents an overview of the work of the IUCN/SSC Pangolin Specialist Group. 
Other topics in the TRAFFIC Bulletin relate to the trade in wild flora and include: an examination of China's share of the global medicinal and aromatic plant (MAPs) export trade, which explores the potential market for sustainably collected wild, native Chinese MAPs and investigates the scope of their organic certification in China: the use of artificial propagation and "forest grown" approaches in the USA to the cultivation of American Ginseng, which is heavily traded despite regulations in place in the USA to prevent overharvesting, much of it to satisfy demand from East Asia; and a project that aims to increase compliance with laws and regulations concerning harvest and trade of timber exported from, or via, Cameroon to China and the EU. 
Other topics feature a report on traditional medicinal use of spiny-tailed lizards in Malaysia and Madras Hedgehogs in India, and the sale of Sungazer Lizards, a South African endemic with a small distribution: with no substantiated evidence of captive reproduction of this species in any numbers, it is highly likely that the majority of specimens in the pet trade are laundered wild-caught animals.
You can find these articles and more all in the latest issue of the TRAFFIC Bulletin (PDF, 3.1 MB).
TRAFFIC thanks The Rufford Foundation and the Forestry Bureau, Council of Agriculture in Taiwan and Cleveland Metroparks Zoo for their contributions towards the publication of the TRAFFIC Bulletin.
To help keep the Bulletin free, please donate today. Thank you.
---