Dongxing Customs enhance their skills in detecting illegal wildlife trade
Dongxing, Guangxi province, China, 28th April 2016—more than 100 Dongxing Customs officials received enforcement training from the Guangxi Branch of China's Convention on International Trade in Endangered Species of Wild Fauna and Flora Management Authority (CITES MA) in co-operation with TRAFFIC last month. 
---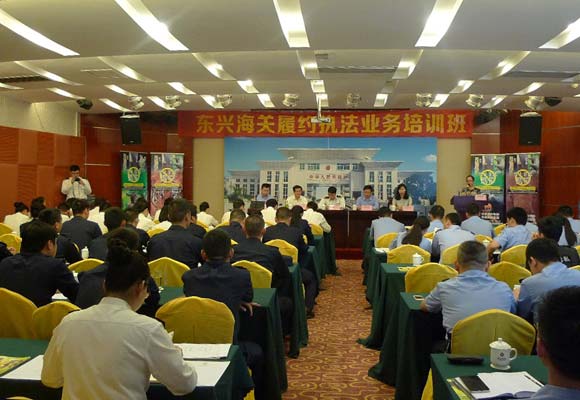 Dongxing is a border port that links China with Viet Nam. The rugged terrain creates particular challenges in the Dongxing area that wildlife smugglers try and exploit using the high levels of cross-border trade and communication as cover. For example, in December 2015, Dongxing Customs confiscated 390 kg ivory, over 505 kg pangolin scales and 82 live pangolins in the region. 
A key element of the recent training was species identification, which was facilitated by invited experts from the State Forestry Police's Forensic Science Center and Guangxi University. Other experts spoke about CITES implementation, requirements for sustainable wildlife trade and relevant legislation. TRAFFIC's Project Manager, Xiao Yu, spoke about TRAFFIC's regular market monitoring, including results from recent surveys in Dongxing and other activities undertaken by the organization.
"Dongxing is a key smuggling hub where Customs have been paying high attention to wildlife smuggling," said Mr Wei Xianke, Director of Dongxing Customs. "Although front line officials had some knowledge and experience in addressing wildlife crime, they lacked species identification knowledge. So, this training is highly appreciated." 
"Combating wildlife smuggling and illegal trade is regarded as a high priority in many countries," said Zhou Fei, Head of TRAFFIC's China Office. "In China, Customs is the main enforcement agency for combating such activities, while according to TRAFFIC's market surveys, many illegal wildlife products are smuggled to Guangxi from Viet Nam through Dongxing and transported onwards to other provinces. Improving the capabilities of Customs officials to detect this trade can greatly deter such illegal activity. TRAFFIC stands by ready to provide further assistance to the Guangxi Government in curbing wildlife smuggling and illegal trade." 
TRAFFIC's work of facilitating China's enforcement departments in implementing CITES commitments is generously supported by CEPF and GIZ on behalf of the German Federal Ministry for Economic Cooperation and Development (BMZ) and the German Federal Ministry for Environment, Nature Conservation, Building and Nuclear Safety (BMUB).
---