South Asia examines new techniques to tackle wildlife crime
Gandhinagar, India, 11th July 2011—Representatives from seven South Asia countries today begin five-days of training on "Strengthening Wildlife Law Enforcement for Wildlife Protection in South Asia" under the aegis of the newly established South Asian Wildlife Enforcement Network (SAWEN). 
---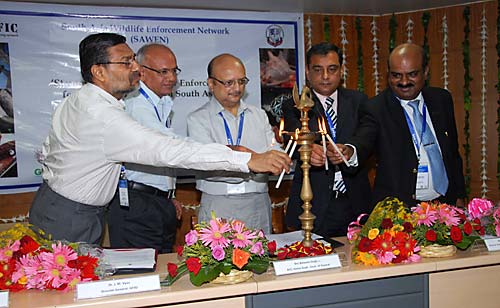 The meeting at the University of Forensic Sciences, Gandhinagar, Gujarat is the first such training to be organized for SAWEN members on wildlife law enforcement. 
Senior-level government officials working in the field of wildlife conservation from Afghanistan, Bangladesh, Bhutan, India, Maldives, Nepal and Sri Lanka are attending the programme which has been organized by TRAFFIC with support from the Global Tiger Forum, the Directorate of Forensic Sciences, Govt. of Gujarat and the Gujarat Forest Department.
Participants will receive a comprehensive understanding of the present scenario of wildlife crime and trade in South Asia and its implications for field conservation and be introduced to the modern tools and techniques used in strengthening wildlife law enforcement. 
The programme brings together various national and international experts and agencies working in this field to exchange ideas, experiences and knowledge on curbing illegal wildlife trade. This initiative will help further strengthen collaboration amongst various South Asian countries and wildlife law enforcement agencies across the region.
Hon. Chief Minister, Gujarat, Shri Narendra Modi said in a statement to the meeting: "I welcome all wildlife experts representing various countries to the State of Gujarat. It is high time that the law enforcement agencies' focus is diverted towards prevention and detection of crimes. Gujarat State has taken a lead in this direction by establishing an important branch called 'Wildlife Forensics' at the State Forensic Laboratory. I compliment SAWEN Secretariat for organizing this workshop". 
Shri Balwant Singh, Additional Chief Secretary, Govt. of Gujarat said: "Illegal wildlife trade is a serious issue and requires concerted and well co-ordinated action to curb it. The newly formed South Asia Enforcement Network should help in this direction."
All eight countries of South Asia are members of SAWEN, which was launched at an inter-governmental meeting hosted by the Royal Government of Bhutan in January 2011 in Paro, Bhutan and has a Secretariat based in Nepal. 
"The establishment of SAWEN was a very crucial, timely and much needed step forward to institutionalize the collaborative efforts of member nations in controlling wildlife crime in the region. I am especially happy to note that under the SAWEN work plan, the first multi country training programme on Strengthening Wildlife Law Enforcement for Wildlife Protection in South Asia is being held in Gandhinagar," said Hon. Minister of Environment and Forest, Govt. of India, Shri Jairam Ramesh in a message sent to the delegates. "Gujarat has some very good successes to share in this direction."
Mr Krishna Prasad Acharya, Chief Enforcement Co-ordinator of SAWEN & the Director General, Department of National Parks and Wildlife Conservation, Nepal said: "Illegal wildlife trade is a form of trans-national organized crime that threatens many iconic species across the world. National Governments in South Asia recognize this threat and are committed to work together to counter such threats. The establishment of SAWEN is an expression of this commitment. This training programme, the first of its kind under SAWEN, will support our common cause and will surely be the first of many more such collaborative efforts." 
The key resources persons at the training programme include experts from the Gujarat Forensic Sciences University, Central Bureau of Investigation, Financial Intelligence Unit, Govt. of India, Directorate of Revenue Intelligence, Wildlife Institute of India, United Nations Office on Drugs and Crime- South Asia Regional Office and TRAFFIC.
Financial support for this important regional training event has been generously provided by the US Government's Department of State, implemented through a grant to TRAFFIC International, with additional support from the Global Tiger Forum.
---