Sniffer dogs out on patrol in India
New Delhi, India, 29th July 2010—Five dogs specially trained to sniff out illegal wildlife products today joined the ranks of the Forest Departments of Madhya Pradesh, Maharashtra and Jharkhand in India. 
---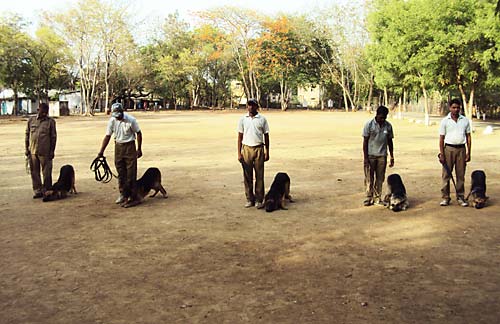 The dogs have been trained to detect hidden wildlife articles such as Tiger bone and skin, Leopard bone and skin and bear bile.
The dogs and their 10 handlers have completed a rigorous nine month training programme at the Dog Training Centre, 23rd Battalion of Special Armed Forces, Bhopal, which culminated today at a passing out ceremony held in Bhopal. 
The procurement of the dogs and the training programme was funded and facilitated by TRAFFIC India.
It is the second phase of TRAFFIC India's sniffer dog training programme. Previously two dogs trained at the National Dog Training Centre, ITBP, Haryana, have been deployed by the Forest Departments of Haryana and Uttarakhand. 
TRAFFIC has helped establish sniffer dog programmes to detect smuggled wildlife parts in several countries including in the Russian Far East and Europe. 
"Illegal wildlife trade has evolved into an organized transnational activity threatening the survival of many species in India," said Samir Sinha, Head of TRAFFIC India. 
"In order to curb this growing menace it is necessary to deploy the best enforcement practices available including the use of sniffer dogs, which have a proven track record in detecting crime and serving as a long-term deterrent." 
He added: "We are overwhelmed by the support and response this programme has received from the forest department and are especially grateful for the contribution of the 23rd Battalion of Special Armed Forces.". 
Aditya Dubey, Indian Police Services Commandant of the 23rd Battalion commented, "Illegal wildlife trade is a serious issue and needs to be curbed. We are glad that our expertise in training dogs for crime detection will contribute towards helping combat wildlife crime".
Dr. H.S. Pabla, Principal Chief Conservator of Forests & Chief Wildlife Warden, Madhya Pradesh, further added, "Today,  Tigers in India need protection like never before. Any effort to strengthen protection will prove useful. We are confident the sniffer dogs programme, which has proved successful in curbing illegal wildlife trade in other countries, will further strengthen enforcement efforts in India." 
For more information, please contact: Khalid Pasha at +91-9810797349
---