Shahtoosh smuggler fined in Thai first
Bangkok, Thailand, 27 August 2007—The owner of a luxury store in Bangkok was today convicted of importing and selling shawls made from shahtoosh, the wool of the Tibetan Antelope, an animal listed as Endangered by IUCN-The World Conservation Union, in the first conviction of its kind in Thailand.
---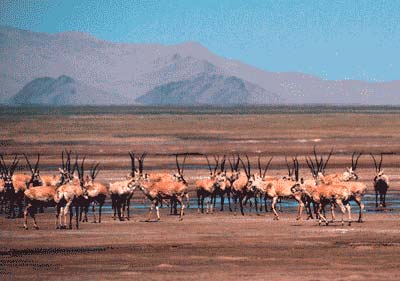 Reyaz Ahmad Mir, an Indian national, was fined USD300 and given 2 years parole after he pleaded guilty to charges of illegally trading shawls made from the highly prized wool. 
Following a tip-off from TRAFFIC, Thai police raided several stores in downtown Bangkok in July 2006, and confiscated shawls worth at least 700,000 baht (USD20,000) from Mir's store. 
It followed four months of undercover operations by enforcement authorities in Thailand.
 
"We welcome the successful conviction by the Thai authorities. It shows how the Thai authorities are collaborating effectively to clamp down on illegal wildlife trade in the country," said Azrina Abdullah, ASEAN-WEN Support Program Leader for TRAFFIC. 

"However, the fine given is very lenient considering what can be imposed under the Thai Wildlife Act," she added.
Tibetan antelopes have been indiscriminately poached and are believed to number fewer than 50,000 animals today: a century ago there were as many as 1 million. 
One shawl requires the wool of between three and five dead animals, and sells for thousands of dollars on the black market. The three Indian nationals arrested by Thai police said their usual customers were wealthy tourists.
The defendants had claimed the shawls were fakes and therefore legal, but their authenticity was confirmed by forensic experts from the US Fish and Wildlife Service. 
---