Seizure of Indonesian reptiles in the Philippines makes case for greater cross-border cooperation
Over 100 reptiles, several endemic to Indonesia, have been seized in the Philippines in a case that once again calls attention to incessant wildlife smuggling between the two countries.
---
Among the reptiles seized were species globally listed Endangered on the IUCN Red List of Threatened Species™, including the Pig-nosed turtle Carettochelys insculpta, Blue Speckled Tree Monitor Lizard Varanus macraei, Banggai Island Monitor Lizard Varanus melinus and the Critically Endangered Asian Giant Tortoise Manouria emys.
All are found in Indonesia's Papua province and are also listed in Appendix II of CITES*, which strictly regulates international trade and requires permits.
These cross-border trafficking cases continue to occur at concerning levels, frequently observed across the Southeast Asian region. We encourage regional enforcement agencies to strengthen information sharing and collaborative initiatives to counter this problem in a meaningful and effective way."
Kanitha Krishnasamy, Director for TRAFFIC in Southeast Asia
This is the latest in a series of seizures involving Indonesian species smuggled into the Philippines. Between 2014 and 2019, seven seizure incidents with more than 1,300 live wild animals, mostly birds from the island of New Guinea, were made in the southern Philippines. One shipment with over 300 wild Indonesian species was seized in Manila in 2018.
Indonesia has also foiled numerous wildlife smuggling attempts to the Philippines, mostly involving wild-caught parrots from Indonesian islands that are located close to the Philippines, such as the Maluku and Talaud islands. This includes at least four seizures of 462 Indonesian endemic parrots between 2013 and 2017.
The island of New Guinea, which comprises the Papua province of Indonesia and Papua New Guinea, is a frequent source of live wild animals smuggled into the Philippines. Previous seizures have been dominated by birds, making the recent all-reptile confiscation unusual.
Reptiles in regions' pet trade
The recent case underscores both the illegal demand for reptiles within the region and the reach of traffickers into areas near Indonesia with shared biodiversity. This was evident from the discovery of the Emerald Monitor Varanus prasinus, New Guinea Blue Tongue Skink Tiliqua gigas and Common Blue Tongue Skink Tiliqua scincoides in the seizure. These are all species which are found in Indonesia but are more widely distributed in nearby Papua New Guinea or parts of Australia.
The illegal consignment also contained some reptiles from beyond Asia that are popular in the exotic pet trade in the region, such as the Green Iguana Iguana iguana and Black & White Tegu Salvator merianae, and Leopard Tortoise Stigmochelys pardalis.
"We know there is a flourishing online reptile trade in the Philippines, and investigations are needed to uncover how shipments like these might be feeding that demand," said Emerson Y. Sy referring to TRAFFIC's study published in 2018 showing thousands of live reptiles advertised for sale on Facebook over a three-month period.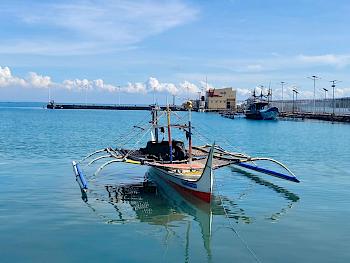 Details on the seizure
All the animals were recovered from a fishing vessel near Glan in the province of Sarangani, in the very south of the Philippines, on 30 August 2022.
Four men, who could not produce any legal permits for the animals, were arrested by officers of the Philippine Coast Guard - Eastern Sarangani and the Department of Environment and Natural Resources–Community Environment and Natural Resources Office (CENRO) of Glan. They face criminal charges for violating Section 27(f and i) of the Philippines Wildlife Resources Conservation and Protection Act of 2001.
The suspects allegedly picked up the wildlife on Balut Island, which lies adjacent to major waterways also bordering Indonesia and are well-known for trafficking wildlife and other contraband between the countries.
---
Notes:
*CITES: Convention on International Trade in Endangered Species of Wild Fauna and Flora
---