Seizure of 1,148 ivory tusks underscores Hong Kong's transit role in illicit trade
UPDATE: Hong Kong, 7th August--On 6th August, Hong Kong Customs seized a further 1,120 ivory tusks, 13 rhino horns and five pieces of leopard skin weighing a combined total of 2.266t from a 20 ft container arriving from Nigeria and declared as "Red Cam Process Wood".
Hong Kong, 19th July 2013—Hong Kong Customs today announced the seizure, on 18th July, of 1,148 ivory tusks weighing 2.183 tonnes. The tusks were declared as timber and concealed in a 20 foot (6 m) container that arrived on a vessel from the West African country of Togo. 
---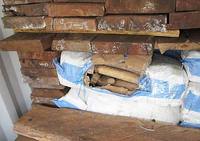 It was the ninth large-scale ivory seizure made in Hong Kong since 2010, with a combined weight of just over 14 tonnes. CITES has defined large-scale seizures as 500 kg or more, and typically are indicative of organized criminal activity. 
Hong Kong, together with Malaysia, the Philippines and Viet Nam, were identified through analysis of the Elephant Trade Information System (ETIS) database as the main transit points for ivory arriving in Asia from Africa before onward distribution to the major markets in Thailand and China. Collectively, they have made or been implicated in 21 (62%) of the 34 large-scale ivory seizures made between 2009 and 2011, totalling 41.1 tonnes of ivory.
ETIS is the world's foremost collection of ivory and other elephant product seizures containing nearly 20,000 records from some 90 countries or territories worldwide since 1989. It is managed by TRAFFIC on behalf of Parties to the Convention on International Trade in Endangered Species of Wild Fauna and Flora (CITES), who met this March in Bangkok, Thailand. 
"TRAFFIC congratulates Hong Kong Customs on their diligence in making this seizure and hopes that the countries involved conduct the necessary follow-up investigation needed to unmask the criminals behind this transaction," said Tom Milliken, TRAFFIC's ivory expert. 
Under new operational procedures agreed at CITES last March, any ivory seizure over 500 kg will undergo a forensic examination to provide insights into its origin and help shed light on who is orchestrating these large-scale ivory shipments.  
"In this case that's a very important consideration as Togo probably has fewer than 50 elephants in the wild", said Milliken. "Clearly, this ivory originated elsewhere and Central Africa is my bet."
This latest Hong Kong seizure is the second major ivory shipment seized in Asia arriving from Togo in the past eight months. In December 2012, a massive 6 tonnes, the third largest seizure in the ETIS records, took place in Malaysia. That shipment was said to have left Togo and transited Algeciras in Spain before arriving in Port Klang. 
"Anywhere along the trade chain the containers are offloaded offers the potential for intercepting these ivory shipments, a point which should not be lost by enforcement officers worldwide, who need to share information and co-operate to bring down the international networks behind the ivory smuggling racket," Milliken added. 
In January 2010, Hong Kong Customs seized 186 ivory pieces that arrived from Malaysia having been shipped from Nigeria, while in October last year containers arriving in Hong Kong from Tanzania and Kenya between them contained 3.813 tonnes of carved and raw ivory. 
These shipments are arriving on established trading routes and the shipping companies themselves have a moral responsibility to ensure they are not being unwittingly used by criminal networks to ferry their contraband worldwide.
On 23rd July 2013, Singapore announced its Agri-Food and Veterinary Authority was working with the Kenyan Wildlife Service, Kenyan Police and the Lusaka Agreement Taskforce to repatriate 1.8 tonnes of raw ivory tusks seized in January 2013 to allow further investigation and enforcement actions by the African authorities.
---