Sapera communities learn about wildlife protection and conservation
Dehradun, India, 7th May 2016—last month TRAFFIC and WWF India held two events to raise awareness among the Sapera community about wildlife conservation and protection and the impacts of poaching and illegal wildlife trade. 
---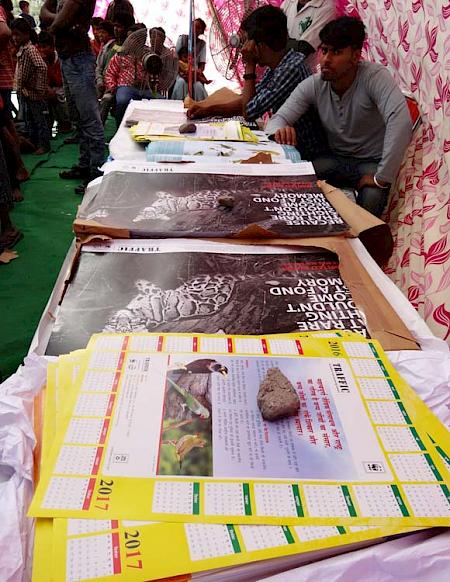 The events included an extremely popular puppet show and an educational talk and were attended by more than 250 people including many women and children from the Sapera community living in the Bhaniyawala and Mathurawala districts on the outskirts of Dehradun, the capital city of Uttarakhand, northern India. During an interactive session, community members were encouraged to discuss issues of concern. 
Mr Sanjay Nath, the Pradhan (head) of the Mathurawala community, spoke about the community's interest in protecting wildlife and sustaining natural resources for the long-term benefits they brought and stressed the need for alternative livelihood opportunities for community members. 
Although the Sapera community has traditionally been involved in hunting wild animals for subsistence, over the years some have ventured into large scale poaching and smuggling of endangered wildlife for organized and commercially driven illegal wildlife trade. In 2015, the Pradhan introduced a fine of INR25,000 for any community member found guilty of poaching protected wildlife species.
"This is the first time TRAFFIC has conducted an awareness campaign with a local community in India and we hope that, combined with robust alternative livelihood support, it will help to change the mind-sets of any community members currently engaged in wildlife trafficking," said Dr Shekhar Kumar Niraj, Head of TRAFFIC's India Office. 
The programme is part of an awareness campaign initiated by TRAFFIC and WWF-India to sensitise and engage the support of local communities for protection and conservation of wildlife. TRAFFIC plans to conduct a number of awareness workshops with communities across India in the coming year.
---