Role of women in sustainable conservation and local economic development celebrated in Bac Kan, Viet Nam
Bac Kan, Viet Nam, 20th October 2017—National Women's Day is an important date on the Vietnamese calendar when the contributions of women to their families and the local community are celebrated.
---
This year, a day early, at an event organized by TRAFFIC and the Forest Protection Department (FPD) in Bac Kan province, over 50 collectors of wild medicinal and aromatic plants (MAPs) and local leaders, along with representatives from the Department of Industry and Trade and the Department of Agriculture and Rural Development, honoured the role women play not only in the sustainable conservation of wild MAPs, but also in local economic development.

TRAFFIC has been working with local wild MAPs collectors, the majority of whom are women, in Bac Kan province, northeast Viet Nam, since 2011 to provide the tools and approaches to communities for sustainable harvesting and equitable trade in MAPs products. 

Between 2015-2018, the activities in Viet Nam, including the National Women's Day celebration, are supported in the framework of theEnhancing management and benefit flows in Vietnam's wild medicinal plant products project, though the Darwin Initiative funded by the UK government. 

MAP products have a variety of uses, including as traditional medicine, organic cosmetics and dietary supplements. 

However, changes in demand and trade have revealed the need for sustainable harvesting and the importance of ensuring fair profit distribution along the trade chain, including the local collectors.
Sustainable harvesting ensures species are not lost and are available for future generations to harvest. Significant headway has been made in this area, and by progressing towards a regulated harvest of Jiaogulan Gynostemma pentaphyllum, Woolly Fern Cibotium barometz and other medicinal and aromatic plants means these species will no longer be over-harvested and exploited. 
Our work with communities in Viet Nam is essential to ensure that harvesting and trade in medicinal and aromatic plants generates continued and sustained income for the people who depend on these natural resources without negatively impacting on biodiversity. It is critical that local communities are empowered to be financially independent and protect their future livelihoods. National Women's Day is a key date to celebrate women's role in helping bring about these changes.
Madelon Willemsen, Head of TRAFFIC's Viet Nam officeThe project is guided by the principles of the FairWild Standard, an internationally recognized best practice framework to verify the sustainable and equitable trade in wild plants, fungi and lichen.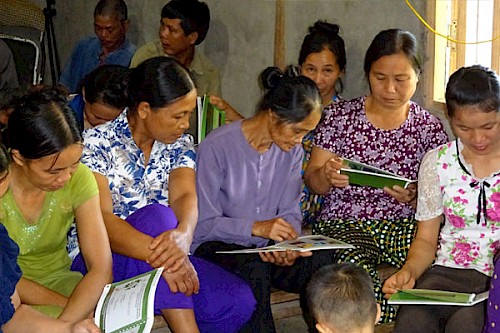 The FairWild Standard highlights the importance of gender equality and enhancing the role of women (and other disadvantaged groups) in wild collection, and includes a number of criteria and indicators to protect and improve their status. Wild collection operations complying with the standard must ensure there is no discrimination preventing the participation of women as registered collectors, or as workers in the operation; that equal pay is given for equal work; and that female workers have fair employment conditions including during pregnancy and maternity.

In the target project area, women and ethnic minorities represent around 90% of collectors of wild MAPs, and their empowerment and strengthened capacity in sustainable MAPs harvesting, processing, and equitable trade, is key for the success of the project that aims to improve the livelihoods of at least 1,000 low-income households. 

To date, within the scope of the project, 460 women were trained in FairWild principles for sustainable wild-harvesting and fair trade, and 70 have registered as members of co-operatives—four of these became trainers themselves. 

During the day's event, several women spoke about their experiences and knowledge of MAPs harvesting, highlighting their role and economic contribution towards the local economy. 

Ms Nong Thi Hue, a member of a MAPs collector co-operative in Cho Don district, Bac Kan, said, "I didn't know about sustainable harvesting until I participated in one of TRAFFIC's programmes where I was trained on how to collect sustainably and how to leave the plants to generate for the next harvest. I was also trained on cutting and drying plants. Before I just uprooted the plants without knowing that this would harm them."

The local authorities attending the celebrations have an instrumental role in the trade of MAPs through securing and facilitating long-term co-operation between collectors and companies. Through Bac Kan FPD, TRAFFIC will continue to provide educational tools to empower local harvesters and collectors to promote and practice sustainable harvesting practices.

---