Making CITES work for wild medicinal and aromatic plants: the role of voluntary certification explored
Cambridge, UK, 8th February 2019—A stakeholder workshop held in the David Attenborough Building last month examined the potential role of voluntary third-party sustainability certification schemes in supporting implementation of wild plant trade controls under the Convention on International Trade in Endangered Species of Wild Fauna and Flora (CITES). 
---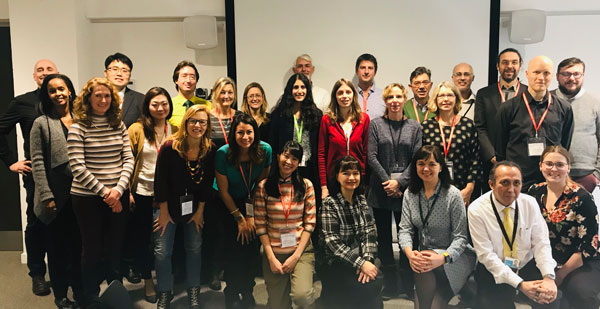 The meeting brought together government officials responsible for CITES implementation in nine countries with representatives from: businesses involved in wild plant trade, sustainability standards organisations, the CITES Secretariat, the International Union for Conservation of Nature (IUCN), and the United Nations Conference on Trade and Development (UNCTAD) BioTrade Initiative.
CITES is the main inter-governmental agreement providing for co-ordinated regulation of international trade in wild animals and plant species listed in its appendices. Over 800 medicinal and aromatic plants are listed in CITES Appendix II, which means regulated trade is permitted, subject to proof of legality and sustainable sourcing.
Key exporters in recent years have been Mexico, Cameroon, and South Africa, who between them accounted for 75% of all wild-sourced exports of CITES Appendix II listed plants and their products by weight, while five countries were responsible for 77% of imports: France (26%), USA (16%), Japan (15%), Germany (11%) and Spain (7%).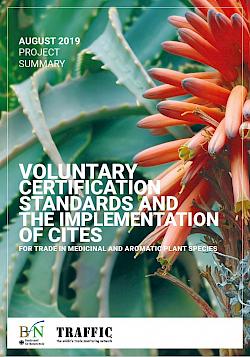 The top five traded wild-sourced plant species by reported volume in the period 2006–2015 were: Candelilla Euphorbia antisyphilitica, African Cherry Prunus africana, Cape Aloe Aloe ferox, Agarwood Aquilaria malaccensis, and Jatamansi Nardostachys grandiflora.
Although implementation of CITES provisions should ensure the sustainability and legality of harvests, there are concerns about the capacity and resources available to CITES-implementing authorities, in particular in some source countries. This may undermine the impact of CITES implementation and has sometimes led to precautionary trade restrictions being applied by importing countries.
Furthermore, businesses trading wild plant resources sometimes perceive CITES permitting as complicated and slow or acting as a barrier to trade. Some companies prefer to avoid trade in CITES-listed species entirely. This is unfortunate: contrary to species not listed under CITES, an export permit for wild-collected CITES Appendix II-listed plants, if properly obtained, should act as a guarantee of sustainable sourcing. 
To examine whether market tools such as third-party certification can further support CITES implementation, the stakeholder workshop was organised under a project implemented by TRAFFIC and supported by the German Federal Agency for Nature Conservation (BfN) that aims to identify how voluntary certification can assist with implementation of CITES provisions for Appendix II-listed plant species. 
Meeting participants discussed a paper on the potential for voluntary certification systems to help with implementation of CITES requirements, identified the criteria such certification schemes would need to meet for satisfying sustainability and legality requirements (non-detriment and legal acquisition findings respectively), and reviewed the findings of an online survey of CITES authorities and relevant businesses. 
To set the scene, government representatives shared their experiences of the implementation of CITES provisions and how issuance of permits works in practice, both by importing and exporting countries. Subsequently, business sector representatives spoke about the practicalities of international trade in wild botanicals, and whether CITES listing helps or hinders such trade. The perspectives here ranged from a Frankincense producer from Somaliland, to industry sectoral association and individual trading and manufacturing companies representing the cosmetic, food and pharmaceutical sectors. 
"Trade in CITES-listed botanicals can be challenging," said Holly Johnson, Chief Science Officer of the American Herbal Product Association (AHPA), which brings together over 350 member companies doing business as growers, processors, manufacturers and marketers of herbs and herbal products as foods, dietary supplements, cosmetics, and non-prescription drugs. 
We are keen to explore avenues to assist our members engaging in the sustainable and traceable trade in CITES-listed species to further benefit their businesses, and ensure the survival of species. The workshop was a wonderful forum to talk about opportunities including use of voluntary certifications and building collaborations to further engage with the scientific and government authorities.
Holly Johnson, Chief Science Officer of the American Herbal Product AssociationVoluntary certification and two specific standards were introduced by the FairWild Foundation and the Forest Stewardship Council (FSC), alongside an analysis compiled within the project comparing CITES requirements against safeguards provided by four different voluntary standards: the FairWild Standard V2.0, UEBT/UTZ Certified Herbal Tea Standard, FSC: International Generic Indicators and the EU Organic regulations. 
The ensuing discussion highlighted the costs and benefits of applying voluntary certification for CITES Parties and the business sector. The obvious financial burden of certification costs was brought up as an important constraint, offset by the range of benefits for both government agencies and industry. 
"The benefits could include time potentially saved by CITES Authorities and exporting companies from faster permitting processes provided certification information covers key aspects that are also reviewed as part of the process for making Non-Detriment Findings and for issuing CITES permits," said Paola Mosig, Coordinator of the CITES Scientific Authorities for Mexico. 
Further, the workshop focused on operationalising such approaches in practice, both in the context of ensuring biological sustainability of sourcing and legality of trade and associated traceability along supply chains. For the sustainability part of the discussion, questions included identifying the additionality of applying voluntary certification, e.g. FairWild, in comparison to processes already undertaken in conducting Non-Detriment Findings under CITES. This included access to tools such as species and areas harvesting and management plans, harvest monitoring programmes, and measures to ensure compliance through annual field audits by an accredited independent inspector.
"It is essential to have a clear understanding of the issues around information access and sharing, including the potential incentives for companies to share certification documentation with government agencies, although we can see clear benefits from receiving such information to close certain knowledge gaps," said David Harter from Germany's CITES Scientific Authority. 
From the traceability perspective, it was recognised that most certification schemes integrate traceability into their requirements which could help CITES Management Authorities to make legal acquisition findings and control international trade. 
The workshop participants then investigated whether there are factors that can help identify species, trade chains or conditions where specific certification systems would be most applicable and can assist with CITES implementation.
They also considered whether particular species not on the CITES appendices could benefit from application of a rigorous certification scheme, as a precautionary measure to CITES listing. Important factors included demand (e.g. does the destination market have an interest in certified products?), source (e.g. are there gaps in knowledge of sustainability of harvests, population dynamics, or known governance and capacity issues limiting effective implementation of existing CITES provisions?), trade (e.g. when species have suffered trade suspensions, is there a potential to de-list species from CITES if there were additional controls in place via certification?), and livelihoods (e.g. can certification schemes' fair trade requirements provide verification of improved benefit-sharing from trade?). 
The workshop ended with discussions about the potential for bringing voluntary certification into the policy arena in the context of CITES, as well as through the Convention on Biological Diversity and UNCTAD BioTrade. 
At the upcoming CITES Conference of the Parties in May 2019 (CoP18), there are a number of relevant agenda items including a general examination of CITES implementation for trade in medicinal plants. 
"The trade in CITES-listed medicinal plants has not been a separate theme in the past, despite the key features this group of species has in trade," said Martin Hitziger, Plant Officer, CITES Secretariat. 
"The topic of applying voluntary certification for CITES-listed medicinal plants is an important issue to take forward into enabling more effective CITES implementation for these species."
Meeting participants also noted the need to document case-studies of voluntary certification of CITES Appendix II-listed medicinal and aromatic plant species.
"Although recognising that third-party voluntary certification schemes do not provide a 'silver bullet' to solving the issues governments and businesses currently face in implementing CITES trade controls, they can clearly provide useful support. The detailed, audited, assessment of sustainability factors carried out through the certification process has enormous potential to help fill knowledge gaps faced by government regulators. Combined CITES trade controls and certified traceability can provide buying companies with the reassurance they should be seeking to ensure their supplies are from sustainable sources," said Anastasiya Timoshyna, TRAFFIC's Senior Programme Co-ordinator – Sustainable Trade and the project manager. 
---