Rare tortoises and drugs found in abandoned luggage
Kuala Lumpur, Malaysia, 14th June 2010—Enforcement agencies discovered 300 tortoises from Madagascar bound and packed in two suitcases that also contained drugs at Kuala Lumpur International Airport last week. 
---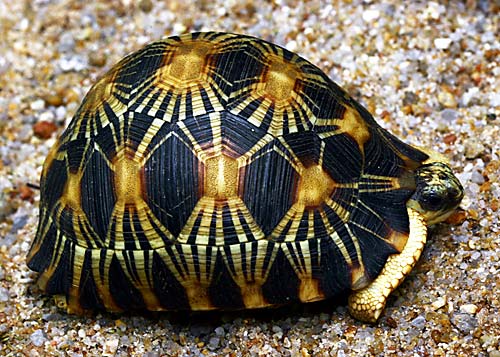 The bags contained 285 Radiated Tortoises Astrochelys radiata, 14 Spider Tortoises Pyxis arachnoides and a single Ploughshare Tortoise Astrochelys yniphora, one of the rarest tortoise species in the world.
The tortoise- and drug-filled bags had come in on 1 June on an Air Mauritius flight and were discovered by Customs officers at the airport.
The tortoises, all still alive, have been handed over to the Department of Wildlife and National Parks (Perhilitan) which is making arrangements for their return to Madagascar, news reports said.
Malagasy reptiles are widely traded globally. With few successful captive propagation projects whose combined reported output cannot account for the volume of individuals in trade, it is assumed the vast majority of these animals are sourced illegally from the wild. 
All three tortoise species are listed in Appendix I of CITES and the Ploughshare Tortoise is listed as Critically Endangered by IUCN.  The population of the species in the wild is estimated at 100 to 400 individuals in a range of only 1,500 square kilometres.
"TRAFFIC commends the diligence of the authorities involved in this case but is concerned that the culprit in this heinous crime has apparently escaped without penalty", said TRAFFIC's regional director in South-east Asia, Dr William Schaedla.
"We urge both Perhilitan and the Customs Department to investigate further."
Perhilitan also arrested four people and seized a menagerie of wildlife, and wildlife parts, in a series of raids across the country over the past month.
The haul included two Southern Pied Hornbills, pythons and cobras, python gall bladders, several types of wildlife meat, and the head and skin of a Serow.
---