Rare Malagasy tortoises turn up in luggage seized in Bangkok
Bangkok, Thailand, 10th December 2013—Royal Thai Customs today seized a bag containing 62 highly threatened Radiated Tortoises Astrochelys radiata and arrested a Malagasy national at Bangkok's Suvarnabhumi International Airport.
---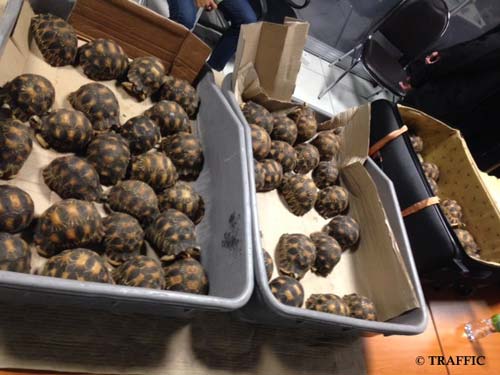 The bag was not picked up from the luggage carousel raising the suspicion of Customs officials who then scanned the bag to check its contents. The tortoises were discovered hidden in the foam-lined suitcase.
Officials managed to locate the suspect, a Malagasy national, who had flown from Antananarivo to Bangkok. He is under arrest and is being investigated under several sections of Thailand's Wild Animals Preservation and Protection Act 1992, Customs Act and the Animal Epidemics Act. 
The Radiated Tortoise, like all of Madagascar's native tortoise species, is listed in Appendix I of the Convention on International Trade in Endangered Species of Wild Fauna and Flora (CITES) meaning no international commercial trade is permitted. All are also protected under national laws in Madagascar.
The seized tortoises are now in the care of Thailand's Department of National Parks, Wildlife and Plant Conservation. The seizure was based on the ongoing co-operation between TRAFFIC and the Royal Thai Customs, to identify and watch known wildlife smuggling routes. 
Thailand has been a significant trade hub for smuggling highly threatened and illegal wildlife, including Critically Endangered Malagasy tortoises, which are prized as pets. In March this year, Thai authorities seized the largest single shipment of Radiated and Ploughshare Tortoises Astrochelys yniphora ever recorded. 
Since 2008, Thai authorities have thwarted attempts to smuggle more than 400 Radiated and Ploughshare Tortoises, and arrested at least six Thai and Malagasy smugglers in connection with these cases.
"TRAFFIC congratulates the Royal Thai Customs on this success and urges the authorities to prosecute the offender. We look forward to a full investigation into this suspect, the shipment and the intended recipient of these tortoises," said Dr Chris R. Shepherd, Regional Director of TRAFFIC Southeast Asia. 
"Tortoises are frequently smuggled into Thailand for sale in the notorious Chatuchak market, yet the major players orchestrating the smuggling and sale of these animals have not been arrested. Too often, it is only the mules that are caught. Getting the kingpins must be the end goal of enforcement agencies," he said.
TRAFFIC also urges the Thai authorities to repatriate all Malagasy tortoises seized to prevent unnecessary losses and to formalise a government-to-government agreement to tackle the ongoing trafficking.
On 16th December, TRAFFIC, along with the Singapore Zoo, Durrell Wildlife Conservation Trust and the Turtle Conservancy are coming together in an effort to save one of Madagascar's tortoises from poachers. The Tattoo the Tortoise: Keeping Ploughshare Tortoises out of the illegal trade event at the Singapore Zoo will see the engraving of identification numbers onto Ploughshare Tortoise shells to reduce their black market value. 
---