Rare birds and other wildlife seized at Jakarta Airport during busy month
Jakarta, Indonesia, 18th February 2011—A string of seizures at Jakarta's Soekarno-Hatta International Airport this January has turned up an array of illegally acquired wildlife including a pair of one of the world's rarest birds, the Bali Myna.
---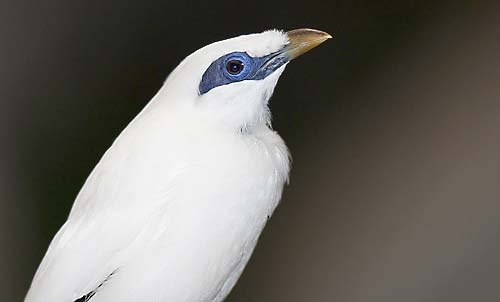 With fewer than 50 mature individuals estimated to now survive in the wild, the seizure of a pair of Bali Mynas in the luggage of a Singaporean man is a significant find. 
The Bali Myna Leucopsar rothschildi is listed as Critically Endangered by the IUCN Red List of Threatened Species and all commercial trade in this species is prohibited as it is also listed in Appendix I of the Convention on International Trade in Endangered Species of Wild Fauna and Flora (CITES).
Endemic to the island of Bali and once common across the north-west of the island, this Myna's wild population has plummeted due to illegal poaching for the cagebird trade. 
The seizure was made at Jakarta airport by Quarantine and Airport Security officers on 31st January. They also found four slow lorises Nycticebus spp. and eight Pig-nosed Turtles Carettochelys insculpta hidden in the suspect's bag when it was x-rayed. Slow lorises are listed in Appendix I of CITES, while Pig-nosed Turtles are in Appendix II.
Chief of Division of control measures at the airport's Animal and Plant Quarantine Office, Dr Wawan Sutian, confirmed the seizure saying all the animals were found alive at the time and are still in quarantine at the present time.
He said the suspect has been released on bail while the case is being investigated. He faces a maximum three years in jail and a maximum fine of 150 million rupiah if found to have wilfully violated Indonesian law.
All the species seized are protected under Indonesian law. 
On 13th January, a passenger bound for Saudi Arabia was detained in Soekarno-Hatta Airport's Terminal 2 when officers discovered two Hill Mynas Gracula religiosa (Appendix II) and other birds concealed in his luggage. 
The birds were stuffed into 10 by 20 cm cylinders, which were then hidden underneath grapes, pears and apples in a carry-on paper bag. The suspect had purchased the birds in the Pramuka Bird Market. The species is protected under Indonesian law.
On 7th January, the same Quarantine Office also foiled an attempt to smuggle an Orang Utan Pongo spp. skull and Helmeted Hornbill Rhinoplax vigil casks to the Netherlands. Both species are listed in CITES Appendix I.
On 1st January, Quarantine officers and Forestry Police found 14 birds including six Black-Throated Laughingthrushes Garrulax chinensis hidden in 12 boxes in the luggage of a passenger bound for Bahrain. The smuggled birds were discovered after the bag underwent scanning. 
"The number of recent seizures in the Soekarno-Hatta Airport illustrates the role Jakarta plays in the illicit global wildlife trade, as a major hub", says Chris R. Shepherd, Deputy Regional Director of TRAFFIC Southeast Asia.  
"The authorities are to be congratulated for intercepting these smuggling attempts.  It is efforts such as these that are needed in order to ensure unscrupulous smugglers will do not continue their trade from Indonesia's capital".
"We hope these activities are viewed as serious crimes, and the culprits are sufficiently penalized so as to deter further such activities".
---