Police trained to combat wildlife crime in Odisha
Odisha, India, April 2015 - Recognizing the importance of involving police officials for combating wildlife crimes, TRAFFIC is collaborating with the Criminal Investigations Department (CID) of the State police force to strengthen wildlife law enforcement in Odisha, India.  Keeping in mind the strategic, yet vulnerable geographic location of Odisha State and its rich wildlife resources, the wildlife law enforcement capacity building training workshop was organised specifically for the police officials on 9 April 2015 at the Police Headquarters in Cuttack, in eastern Odisha.
---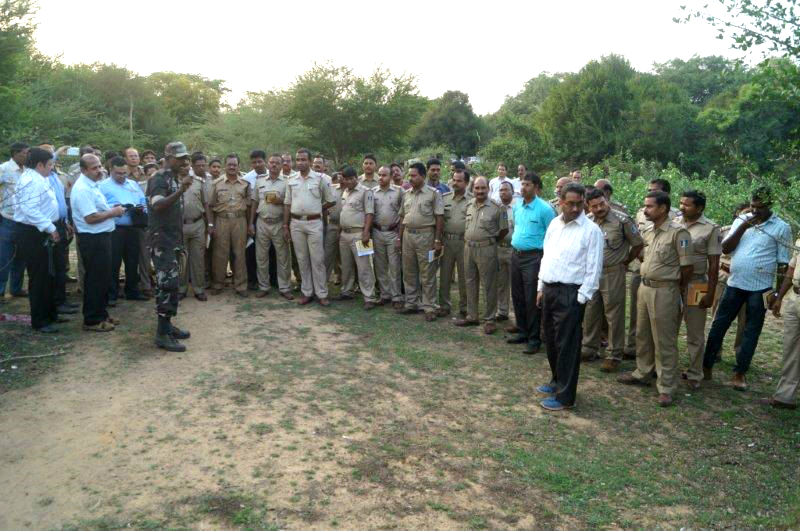 Over 60 police officials at cutting edge levels from nearly 55 police stations located in the vicinity of the Protected Areas (PAs) of Odisha participated in the workshop.
The training workshop was inaugurated by the State Director General of Police, (DGP) Mr Sanjeev Marik, the senior most and highly experienced Indian Police Service Officer of Odisha. In his inaugural speech, he said, "Although the laws related to wildlife and environmental crimes have been in place since 1970s and 1980s, there is a lack of awareness and knowledge about such legislations among enforcement agencies such as police. Further, a perception looms that forest department is solely responsible for the implementation of wildlife laws. This needs to change."  Mr Marik also assured full support of Police for fighting wildlife crime in the region.  
Mr B K Sharma, Additional Director General of Police (ADGP), CID branch of Odisha Police who has been responsible for busting several serious wildlife crime cases during his long tenure with the Central Bureau of Investigations (CBI) in New Delhi, spoke about the growing menace of wildlife crimes. He emphasised on the need to consider wildlife preservation as a matter of national prestige and dignity and that wildlife crime has to be considered at par with other severe felonies. He also stressed on the significant role that the Police can play in combating wildlife crime.
Mr Sharma added that wildlife crime has become highly organised and unless a matching skill development is attained by the police officials it will be very hard to curb this.
Dr. Shekhar Niraj, Head of TRAFFIC in India, gave an overview of illegal wildlife trade in India in the technical session during the workshop. He presented the latest information on wildlife crime hubs, species involved in trade, changes in demands and supply dynamics, identification of specimens in trade and various drivers of illegal wildlife trade and poaching. He also said, "Like many other States, Odisha is  facing a threat from wildlife crime and it is crucial for the police to be well versed with the legislation, tools and techniques to fight this, especially in urban trade and export hubs that serve as major collection and smuggling hubs for wildlife products."
TRAFFIC's resource team including experts from various fields of law and enforcement conducted specialized sessions during the workshop. Interactive sessions were conducted on the use of intelligence collection and collation by TRAFFIC's core and domain experts, including Mr Varun Kapoor, a highly skilled IPS officer. Besides this, a session on wildlife laws and applications of corroborative laws was conducted by senior lawyer, Mr Saurabh Sharma. Sessions on species and specimen identification, DNA fingerprinting and wildlife forensics were led by Dr S P Goyal, former senior scientist at the Wildlife Institute of India. An intelligence collection and investigations session was led by a senior officer from the Wildlife Crime Control Bureau of India (WCCB), Mr Nishant Verma.
Participants also received intensive field training session on surveillance, seizure and interrogation, wildlife crime scene investigation, identifying and dismantling traps set up for poaching, conducted by Tamil Nadu based Special Task Force Expert trainers. The participants learnt about identifying marine species through actual samples of marine and coastal species. A special session using confiscated wildlife products was conducted by experts from WCCB for identification of wildlife parts and derivatives commonly found in illegal wildlife trade.
The police officials in Odisha evinced keen interest in learning various techniques to curb wildlife crime and were constantly involved through queries. They also shared their experiences during both the technical and field sessions. Their interests and commitment could be gauged from the enthusiasm they showed for the programme by attending and keenly participating in all the sessions.
Mr B K Sharma, the ADGP, CID, concluded the training session with expression of hope that this training would lay a foundation for better and effective involvement of police officials in curbing poaching and illegal wildlife trade in the State. He thanked TRAFFIC and its core team of experienced and highly professional domain experts from different fields who worked tirelessly to conduct this training programme in the classroom and field. He rated the training programme as highly successful and objective.
The workshop was well received by both electronic and print media. 
---