Ground-breaking workshop addresses key conservation challenges
Nairobi, Kenya, 14th April 2015 – US Ambassador to Kenya, Robert F. Godec, joined Mr Stephen Manegene, the Director of Wildlife at the Ministry of Environment, Water and Natural Resources and Mr William Kiprono, Acting Director General of Kenya Wildlife Service (KWS), at a ground-breaking workshop supported by the United States Government through the United States Agency for International Development's (USAID) Wildlife Trafficking Response, Assessment and Priority Setting (Wildlife TRAPS) Project. The workshop was convened by TRAFFIC, in collaboration with KWS. It is the first technical workshop to identify national priority actions to combat the illegal killing and trafficking of wildlife in Kenya.
---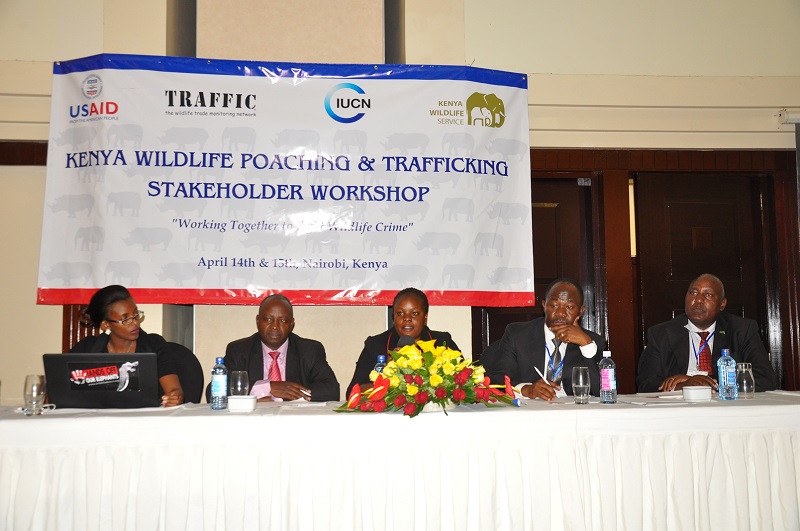 "The government has remained steadfast in supporting conservation through a deterrent wildlife law, inter-agency security collaboration mechanism, more efficient and better co-ordination at ports of entry and exit, as well as budgetary support for ranger recruitment and routine operations," said Kiprono.
In the past decade, a surge in demand for African natural resources has become apparent in Asia. With this growing demand, major challenges have emerged; notably the rapid escalation in poaching and trade of endangered species. The illegal killing of terrestrial mega-fauna such as elephants and rhinos, and marine species is now causing a conservation crisis.
"President Obama has committed the United States Government to spearhead the international response to curtail wildlife trafficking--this USAID-supported workshop is one critical step in that response," said Ambassador Godec.
The Wildlife-TRAPS Project, implemented by TRAFFIC in collaboration with the International Union for Conservation of Nature (IUCN), strengthens the knowledge base, resolve and co-operation of governments, inter-governmental organizations, the private sector and NGOs, in tackling wildlife trafficking between Africa and Asia. The project is currently developing a report that outlines the scope and scale of illegal wildlife trade in Kenya and links to illegal wildlife trade dynamics in the East Africa region.
"This workshop provides an excellent opportunity for different players to sit down together and plan a united, cohesive response to some of the key challenges of conservation," said Wildlife TRAPS Project Leader, Nick Ahlers.
---
About USAID

The United States Agency for International Development (USAID) is responsible for the majority of overseas development assistance from the United States Government and works to end extreme poverty and promote resilient, democratic societies while advancing security and prosperity for America and the world. www.usaid.gov/
About TRAFFIC

TRAFFIC is a leading non-governmental organisation working globally on trade in wild animals and plants in the context of both biodiversity conservation and sustainable development whose mission is to ensure that trade in wild plants and animals is not a threat to the conservation of nature. More information at www.traffic.org
About Kenya Wildlife Service
KWS is the government agency responsible for all wildlife conservation and management in Kenya. It also has the sole jurisdiction over 27 national parks and an oversight role in the management of 34 national reserves and private sanctuaries in addition to 125 stations outside the protected areas.