Police on course to tackle wildlife crime
Cambridge, UK, 20th March 2008—Indonesian National Police (INP) have undertaken special training in how to detect and arrest the organized criminal syndicates looting Indonesia's forests. 

Police officers joined Forestry and Customs officers on intensive Wildlife Crime Investigation and Wildlife Trade Regulation Courses to learn about topics including surveillance, criminal profiling and interviewing suspects, effective raid and arrest procedures, wildlife smuggling routes, and regulations relating to wildlife trade.
---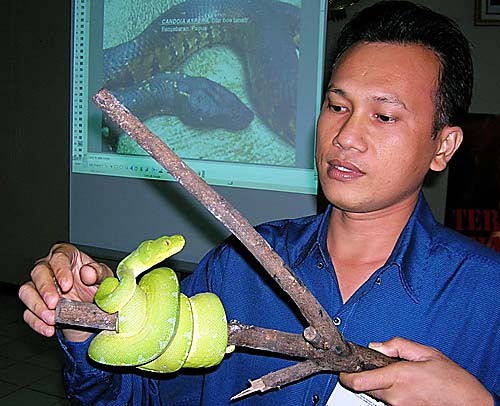 "Indonesia's biodiversity and natural resources are under serious threat from wildlife smugglers and illegal loggers.
"We are heartened by the receptiveness of the Indonesian enforcement authorities to the training courses, as part their effort to combat illegal wildlife crime under ASEAN-WEN" commented Azrina Abdullah, Director of TRAFFIC Southeast Asia. 
Second only to Brazil in richness of biodiversity, Indonesia is a global hotspot for trade in wild plants and animals, but its forests are under serious threat from illegal and unregulated logging. 
The enforcement training programmes were developed by the ASEAN-WEN Support Program, in close consultation with the Indonesian enforcement authorities and supported by US government wildlife law enforcement officers, TRAFFIC, the wildlife trade monitoring network, and Wildlife Alliance.
Meanwhile this week in Bangkok, Thailand, police officers from 13 ASEAN and non-ASEAN countries and territories took part in a seminar on wildlife crime under the auspices of ASEAN-WEN, as part of a series of training programmes and seminars to increase wildlife law enforcement capacity throughout the region.
ASEAN-WEN is the world's largest wildlife law enforcement network, comprising enforcement officers from Brunei Darussalam, Cambodia, Indonesia, Lao PDR, Malaysia, Myanmar, Philippines, Singapore, Thailand and Viet Nam. The United States and China are also co-operating with ASEAN-WEN. TRAFFIC and Wildlife Alliance, via a cooperative partnership with USAID, provide technical assistance to government agencies implementing ASEAN-WEN.
---