Plant conservation should focus on poverty alleviation
Nagoya, Japan, Tuesday 26th October, 2010—Using plant diversity sustainably with a focus on poverty alleviation should be the future strategy for plant conservation in Asia according to a report launched today by TRAFFIC's programme partner, IUCN. 
---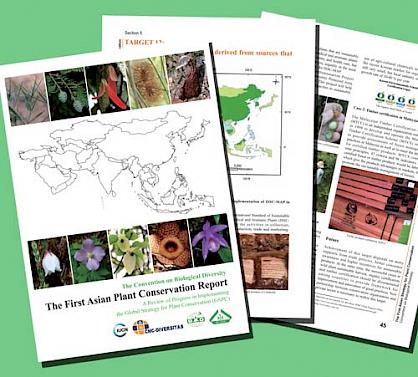 The report emphasizes how sustainable use of plants should be integrated into development plans, and climate change adaption and regional co-operation are also vital components for conserving plant diversity. 
Compiled by botanists and conservationists in the region and beyond, the first Asian Plant Conservation Report examines recent conservation progress in Asia and offers suggestions on how to achieve plant conservation targets under the Global Strategy for Plant Conservation (GSPC) framework. 
The GSPC is a series of plant protection measures proposed under the framework of the Convention on Biological Diversity, which is currently meeting in Nagoya, Japan. 
"This is the first attempt to assess progress of GSPC implementation in Asia," says Dr Ma Keping, IUCN Councillor. 
"Case studies included in this report provide an excellent overview on interesting plant conservation tools and practices that exist in different parts of Asia."
TRAFFIC's work with local communities on sustainable harvesting of Tepirou (Cinnamomum cambodianum) and Krakao (Amomum ovoideum) in Cambodia is one of the case studies featured in the new report. 
Asia is a centre for plant diversity, with more than 100 endemic families and while countries in the region have accomplished a great deal in understanding and documenting plant diversity, rapid urbanization and growth is greatly threatening the plant diversity in the region. 
However, terrestrial protected areas have increased by over 40 percent in the past 20 years in Asia, and the report reveals that 17 countries have established plant conservation mechanisms in production lands, 23 have management policies to conserve socio-economically valuable plant species such as crops and medicinal plants, and almost all Asian countries have policies in alien species management. 
"This incredible effort from Asia has demonstrated the strength of setting targets for conservation," says Dr Jane Smart, Director of the IUCN Biodiversity Conservation Group.
"IUCN now calls on this important work to be 'brought to life' to inspire governments and civil society across the region to do more for plants—the basis of all life on earth."
---