Philippine Pangolins lost in the big city
Manila, Philippines, 30 January 2018—It's the country's capital and one of the world's most densely populated cities, and now, bustling Manila is also the unlikely scene of the rescue for several individual pangolins—a shy scaly mammal more often found in forests.
---
Since early January, the city has recorded three cases in which lone Philippine Pangolins Manis culionensis have been rescued under various circumstances including one found wandering the streets in Pasay City, one of several cities within Metro Manila.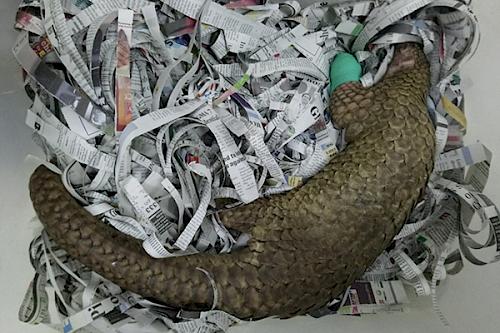 The first incident took place on 9 January when a resident who came across the pangolin in the city posted it for sale on Facebook. However, he was later convinced by a concerned netizen to turn it over to the authorities. 
The pangolin was eventually sent to Manila Zoo which in turn handed it over to the Biodiversity Management Bureau (BMB) and it was finally repatriated to Palawan on 18 January.
The Endangered Philippine Pangolin is endemic to Palawan in the south-west of the country, and five other islands adjacent to it. Like the other seven species of pangolin found worldwide, the Philippine Pangolin is heavily hunted and trafficked for local use of its meat and scales as well as for international trade elsewhere in Asia. 
One of many rescued pangolins found wandering Metro Manila suspected to be a result of illegal trade. This individual is resting following a procedure to treat an injured pawAbout a week after the first incident, a gravid pangolin was turned over to the Manila Zoo in a very weak condition. It subsequently died. On 23 January, a local official rescued an injured pangolin seen wandering a street in Paranaque City. A barangay (ward) official told TRAFFIC that a foreign national later turned up to claim the pangolin but was unable to explain how he came to be in possession of the animal. When requested to show his permit, he immediately disowned the pangolin and left.
This pangolin was treated at a BMB rescue centre located at the Ninoy Aquino Parks and Wildlife Center in Quezon City.
Sunda Pangolins tend to dominate trafficking news in the region, so these cases serve as a reminder that every species of pangolin is vulnerable to illegal trade. The Philippine Pangolin is a rare species and any off-take from the wild does not bode well for their long-term survival
Kanitha Krishnasamy, Acting Regional Director for TRAFFIC in Southeast Asia"When an endangered species turns up some 800 km away from where it should be found, it can only mean one thing—it was smuggled. Whether they escaped the clutches of a restaurant or a pet owner, it's a worrying sign that calls for some investigation," said Atty. Adelina Benavente-Villena, Director for Operations at the Palawan Council for Sustainable Development.
Between 1999 and 2012, a rise in Philippine Pangolin seizures was recorded, with an increase of over 600% for the period 2010–2012, compared to the period 1999–2009. The Philippine Pangolin is protected by law in the country and is listed in CITES Appendix I that prohibits any international commercial trade.
Prior to the three cases in January, another case of a lone pangolin roaming a street in Manila came to public attention when a concerned individual notified a local wildlife television show. This took place in November 2017 and the animal was surrendered to the BMB who repatriated it to Palawan later in the year. 
TRAFFIC urges the public to notify BMB at 925-8952 or 925-8953 immediately if they come across pangolins in city streets or in trade. Alternatively, reports can also be made via the Wildlife Witness App through TRAFFIC, who will liaise with the relevant agencies for appropriate action.
---