Philippine National Police Maritime Group blazes trail against wildlife traffickers
Wildlife traffickers may be back to business after a pandemic-induced lull, but the Philippine National Police (PNP) Maritime Group has been hot on their heels seizing close to 200 trafficked wildlife over the past five months.
---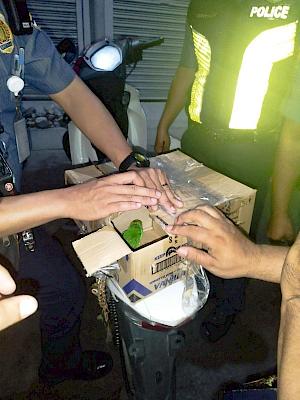 Between September and December 2022, the agency's Northern National Capital Region (northern NCR) Station carried out at least 27 seizures. This has continued through 2023, with a further six operations as of 25 January 2023.
About 80% of the cases took place in the National Capital Region, an area covering 16 cities close to the Philippine capital of Manila. The other incidents occurred in central Luzon.
Most wildlife seized were live wildlife, mostly birds and reptiles that were all destined for the pet trade.
PNP's Maritime Group has been at the forefront in tackling wildlife crime, not just in the NCR but in various parts of the country as we witnessed with the recent seizure of slaughtered sea turtles in the Sulu region."
Kanitha Krishnasamy, Director for TRAFFIC in Southeast Asia
The carcasses of 15 marine turtles were discovered at the end of January in Hadji Panglima Tahil, Sulu, in the far south of the Philippines. The agency also seized boats, spears, hammers and axes and arrested eight people.
"TRAFFIC applauds this vigilance and tenacity. We hope these operations lead to deeper investigations into the criminal networks involved and to legal action against perpetrators," said Krishnasamy.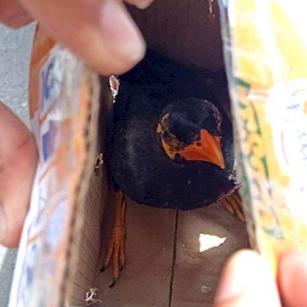 Several heavily trafficked endemic species found only in the Philippines turned up in these seizures.
The most seized species was the Philippine Hanging Parrot Loriculus philippensis, an endemic species listed as Critically Endangered under the Department of Environment and Natural Resources Administrative Order 2019-09. At least 72 individuals were seized in these operations. 
The Philippine Marbled Monitor Lizard Varanus marmoratus, another endemic species seized, was shown to be the most common and consistently available to purchase online during a previous TRAFFIC study spanning 2017 to 2020.
Others were the Palawan Hill Myna Gracula religiosa palawanensis which turned up in at least five of the seizures. It was consistently one of the top traded birds in the past, but at the height of the pandemic (2020-2021), there was a significant drop in volume based on online monitoring. The recent seizures indicate that traffickers are ramping up their businesses again.
The agency enforcement operations were able to intercept wildlife traders, including ambulant vendors who sell wild birds. Legal action is underway in 24 cases.
---