Over 1,000 frontline officers benefit from TRAFFIC's training
Kuala Lumpur, Malaysia, 18th February 2014—TRAFFIC's ground-breaking course on wildlife trade and species identification that has helped develop many trainers within South-East Asia's enforcement agencies, was held for the second time today.
---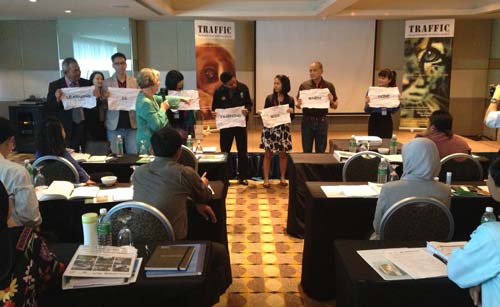 The Training of Trainers (TOT) Course on CITES Policies and Species Identification, first launched in 2011, initially trained 26 wildlife and other law enforcement officers from ASEAN countries, China and Japan. 
To date, 1,200 officers in Viet Nam, Cambodia and Myanmar have received training in workshops directly resulting from the skills passed on during the 2011 workshop. 
The course teaches participants all aspects of planning a wildlife trade course for frontline officers; from logistics and budgets, to effective learning and teaching methods. They are also equipped with training manuals, content on commonly traded species and a thorough guide to the Convention on International Trade in Endangered Species of Wild Fauna and Flora (CITES).
This workshop is conducted under the framework of the East and Southeast Asia Biodiversity Information Initiative (ESABII), and generously funded by the Japan-ASEAN Integration Fund and the Ministry of the Environment, Japan.
It is co-hosted by the Malaysian Ministry of Natural Resources and Environment and was officiated by its Deputy Secretary General II (Environmental Management) Datuk Dr. Abdul Rahim bin Haji Nik.
"Consistently updating our knowledge, sharing it and putting it into action in our protected areas, borders, ports and airports is the only way we are going to outwit poachers and traffickers and maintain the upper hand in the fight against wildlife crime," said Dr Abdul Rahim.
"We are pleased to be able to jointly organise this workshop with the Ministry of the Environment Japan and TRAFFIC on an effort which promises positive impacts in the long term."
TRAFFIC's focus on training and capacity building for enforcement officials speaks to the need to address poor awareness of wildlife trade regulations among enforcement officials and difficulties they face identifying smuggled wildlife. 
To help meet this challenge, the Ministry of the Environment Japan and TRAFFIC have collaborated over the past three years to train enforcement officers under ESABII.
The repeat of the Training of Trainers workshop recognizes that trained officers are not always retained in the same position within their organisation and it serves as a refresher for those who attended the previous course, further ensuring that the skills are not lost and can develop.
"With so many species at risk from poachers and traffickers, it is vital that South-East Asia's enforcement agencies have the skills necessary to stop these criminals," said Claire Beastall, Training and Capacity Building Coordinator for TRAFFIC in Southeast Asia.
"This workshop will help officers from all of the ASEAN countries and Mongolia provide training for their own colleagues back home." 
"Officers need the skills to distinguish species that are common from those nearing extinction – otherwise, how can they work out what is legal and what isn't?"
---