Novel outreach programme engages Hainan fishing community to protect marine turtles
Hainan Province, China, 27th December 2012—More than 500 local fishermen and their families took part in an evening event aimed at raising awareness about the need to protect marine turtles last week.
---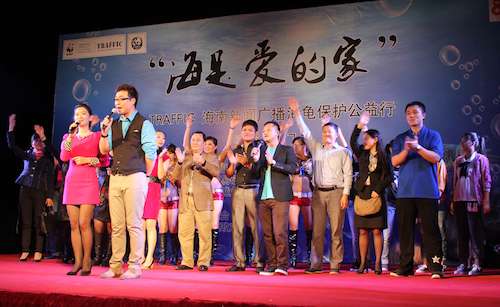 The evening's entertainment was hosted by TRAFFIC and Hainan News Radio in collaboration with the Haikou Branch of China's Management Authority for the Convention on International Trade in Endangered Speices (CITES MA), the Department of Ocean & Fisheries of Hainan Province, Qionghai Radio and Tanmen Town Government. 
It took place in Tanmen, where the main source of local livelihoods for decades has been traditional fishing, including the now outlawed hunting of marine turtles and other endangered marine species. 
The event, which took place on the evening of 20th December, included singing, dancing, reciting of poems, local drama (the Qiong opera) and a question and answer session on the threats posed to marine turtles. The event aimed to educate local fishermen about the need to protect the marine environment, why it was important to release marine turtles caught as by-catch and why the trade in marine turtles and their parts was banned. 
Mr Zhao Xiaosong, deputy director of Hainan Radio FM886 recited a poem about a father's letter to his son, which highlighted the impact of ocean pollution and illegal trade on marine turtles. 
Brochures, posters, marine turtle toys and green bags were handed out as rewards to audience members taking part in the question-and-answer sessions and those who made pledges to protect marine turtles and stop illegal trade in their products. 
Mr Liu Jianjun, deputy director of the CITES MA Haikou Branch said illegal hunting and trade in rare aquatic species still existed in Hainan because of continuing demand, resulting in a significant decline in the population of marine turtles and other endangered marine species.  He appealed to local fishermen to utilize marine resources sustainably and protect endangered animals, allowing future generations to see marine turtles in their natural environment and not just in zoos, aquaria, on television or in books. 
Displays with marine turtle conservation messages were on show alongside a large commitment board, which was soon covered with signatures from everyone from government representatives to media, and the local community.  
The climax of the event was an audience declaration led by TRAFFIC and Hainan News Radio committing those taking it to: "No poaching and processing of marine turtles, no buying or selling of marine turtle products; the protection of marine turtles starts here."
TRAFFIC posted 43 live messages about the event on Weibo, China's equivalent of Twitter on sina.com, attracting a number of comments and attracting new followers. More than 100,000 media hits by Weibo users had occurred within two and half hours of the end of the event, and the issue of marine turtle conservation continues to attract media interest. 
Two local television stations interviewed TRAFFIC staff, government officials and local fishermen for broadcast in the coming days and Hainan News Radio issued a press release about the event on their official website. 
 "This is a new approach for us to protect marine turtles, which directly targets those individuals and organizations closest to the supply of marine turtle products," said Dr Shi Jianbin, head of TRAFFIC's programme in China. 
"We are deeply impressed and encouraged by the active involvement of local government and media, and as 2013 approaches, we are looking forward to a change in local people's attitude towards the use of marine resources."
TRAFFIC's work on marine turtle trade in the region is part of a wider programme under WWF's Coral Triangle Global Initiative to tackle illegal trade in marine turtles. The work on China's market demand is linked to the illegal harvest and supply from the Coral Triangle countries of Indonesia, Malaysia, Papua New Guinea, and the Philippines, as well as neighbouring Viet Nam. This integrated approach combines enhanced law enforcement efforts and demand reduction through awareness-raising on China's regulations to protect these species, support marine conservation, and prevent illegal trade. 
TRAFFIC thanks the WWF Coral Triangle Global Initiative for financial support towards reducing illegal trade in marine turtles in China.
---