INTERPOL provides intelligence-led enforcement training as core approach to cracking down on illegal trade in Asian Big Cats
Kathmandu, Nepal, December 2012—Twenty eight law-enforcement officers from 11 Asian countries gathered in Kathmandu, Nepal, to attend an Information and Intelligence Management Course on Environmental Enforcement initiated by INTERPOL.  
---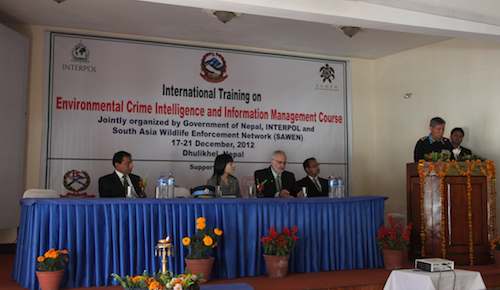 The course was organized by INTERPOL's Environmental Crime Programme and Nepal's INTERPOL National Central Bureau (NCB) within the framework of Project PREDATOR, and as a collaboration with the South Asia Wildlife Enforcement Network (SAWEN).  The SAWEN Secretariat is hosted by the Government of Nepal.
The objective of the training event was to increase the effectiveness of transboundary law enforcement actions and enhance information sharing among governmental agencies on environmental crime.  TRAFFIC was invited to attend the workshop as trainers and provide expertise on illegal wildlife trade to participants during the working group sessions. Khalid Pasha from TRAFFIC's team in India, delivered a module on Recording Information.
The meeting took place from 17-21 December 2012 and brought together senior investigators and intelligence analysts from various law-enforcement agencies from Afghanistan, Bangladesh, Bhutan, China, Indonesia, India, Malaysia, Maldives, Nepal, Pakistan and Sri Lanka. 
Inspector General of Nepal Police, Mr Kuber Singh Rana, during his opening address said: "There is a lack of consistency in enforcement efforts across the region to fight wildlife crime, one of the most lucrative illegal businesses worldwide."
The participants agreed that these efforts should be enhanced through regular information sharing. "We have some data," said one participant, "but we do not have the information that would enable enforcement on the ground."
"This 'Train the Trainers' approach will help us maximize our impact," said Ayako Tsuyada, an officer with INTERPOL Environmental Crime Programme. "We are sure that all participants are now fully equipped with the most updated tools/skills originally developed by INTERPOL to manage and analyse information on wildlife crime."
"INTERPOL hopes this training will benefit every participating country to develop and implement their on-ground operations specifically focusing on Tigers and other Asian Big Cats under Project PREDATOR."
In various sessions, TRAFFIC stressed that inter-agency information exchange is crucial, both at national and international levels, especially with regards to combating wildlife crime involving Asian Big Cats and other endangered species. 
The training sessions were particularly important to enhance law enforcement efforts dealing with organized transnational criminal activity and illegal wildlife trade. Richard Charrette, the Lead Facilitator for INTERPOL, noted that it was not just a learning exercise, but a collective opportunity to crack down on environmental crime. 
"INTERPOL's work with national law enforcement agencies is essential to catalyse an organized response to tackle wildlife crime. Only through co-ordinated efforts can we stop the poaching and illegal trade that threatens the Tiger and other magnificent Asian big cat species," said Natalia Pervushina, Tiger Trade Programme Leader for TRAFFIC and WWF.
---