Notorious wildlife dealer caught red-handed in India
New Delhi, India, 3rd August 2012—A much wanted, suspected notorious illegal wildlife trader and poacher has been caught red handed carrying a Tiger skin and skeleton, two live turtles, ivory and some poaching equipment in Haryana, India.
---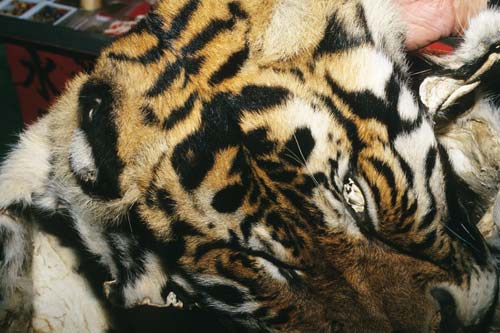 The arrest was made on 1st August 2012 in Gurgaon, Haryana, during a joint operation undertaken by Wildlife SOS, CBI (Central Bureau of Investigation), NTCA (National Tiger Conservation Authority), WCCB (Wildlife Crime Control Bureau) and Haryana Forest Department with assistance from the Haryana Police. 
In India the Tiger is listed under Schedule I of the Wildlife (Protection) Act, 1972. Hunting of or trade in the species and its parts is prohibited. Most of the turtle species and ivory are also protected under the Act and cannot be traded in India. 
This is not the first time the suspect has been apprehended. He was previously arrested in 2009 in Gurgaon for possessing a Tiger skin and skeleton but was released on bail and disappeared. He has been sought in connection with a number of other cases. 
MKS Pasha, Associate Director-TRAFFIC in India said that the seizure and the arrest is a major blow to the illegal wildlife trade nexus prevailing in India. This operation also clearly indicated the effectiveness of multi-agency collaborative efforts to fight wildlife crime in India. 
Ravi Singh, SG&CEO-WWF-India further commented, "We would like to congratulate the enforcement agencies that directed the operation."
TRAFFIC India/WWF-India facilitated co-ordination among various agencies, along with Wildlife SOS, for effective action.
---