Narwhal conservation, sharks, raptors, glass eels and more in the latest TRAFFIC Bulletin
Cambridge, UK, 6th May 2020—the latest issue of the TRAFFIC Bulletin is published online today and as ever includes unique insights into a wide range of wildlife trade-related topics.

The impact of the COVID-19 outbreak and what its impacts are likely to be on future wildlife policy is the subject of an editorial written by TRAFFIC's Executive Director Steven Broad, while articles include an examination of Narwhal conservation and trade in view of the rapid warming of polar Arctic regions.
---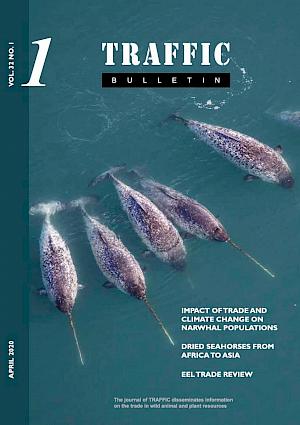 The marine theme continues with enforcement insights into the trade in sharks and shark fins, the dynamics of trade in seahorses from Africa to Asia and the aquatic focus carries on with a review of the trade in Anguilla glass eels.
On dry land comes an article into the insights from social media into the illegal trade of wild raptors in Thailand.
For the first time, the issue does not include a Seizures and Prosecutions section, this service now being replaced with the launch of the online Wildlife Trade Portal, about which more information can be found in the news pages of the Bulletin where readers can also find the latest developments in putting enforcement agencies in touch with one another through the roll out of Trade in Wildlife Information eXchange platforms.  
Now in its 32nd volume, the TRAFFIC Bulletin remains the only journal dedicated exclusively to international wildlife trade issues and associated conservation concerns.
We work hard to keep the Bulletin open source and available free of charge as the issues we cover are among some of the most pressing conservation topics of our time. You can support our work to keep the Bulletin free and help us get it into the hands of those able to bring about lasting change for wildlife. Visit our support page to make a contribution.
---