Meeting the elephant artists and conservationists: a day to remember
London, UK, 28th May 2010 — visitors from across London flocked to Elephant Parade London 2010 last Saturday for an opportunity to meet those who had helped brighten up the UK's capital city; the elephant statue artists.
---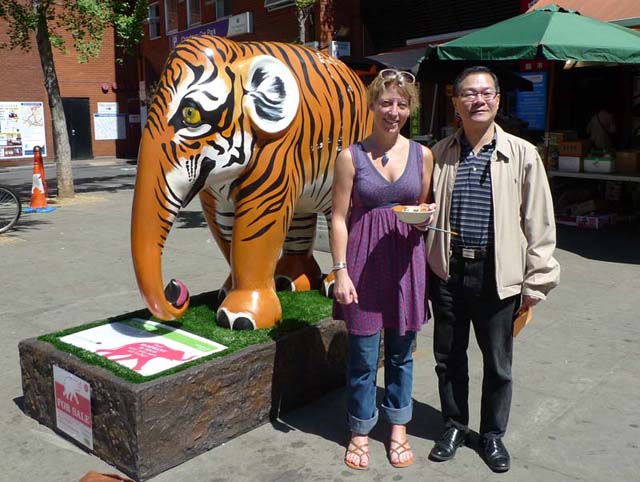 More than 250 life-sized baby elephant sculptures are on display around the city as part of a unique conservation initiative that aims to raise GBP2 million to save Asian Elephants.
Those taking part in the day included Dominique Salm, who painted the TRAFFIC-sponsored elephant in the parade, "Tigerphant," which is proudly on display in London's Chinatown. The statue is painted to resemble a Tiger, a potent symbol of the need to strengthen protection of Asian Elephants and Tigers in 2010, the Chinese Year of the Tiger.
Dominique was on hand to put some final touches to the Tigerphant, while TRAFFIC staff Teresa Mulliken and Richard Thomas distributed leaflets and answered questions about TRAFFIC's work to help protect Asian Elephants and other animals.
One visitor to the statue was Leslie Ng, President of the London Chinatown Chinese Association, who noted: "The TRAFFIC Tigerphant has attracted a great deal of interest both from visitors and those who work here, and we are investigating the possibility of making him a permanent fixture in Chinatown."
"He would certainly be a tourist attraction and bring visitors to this part of the city."
TRAFFIC is encouraging Chinatown businesses to ask themselves "How would the Year of the Tiger be celebrated if all of the Tigers had disappeared?", and to support TRAFFIC's efforts to make sure that this question never needs an answer. 
"TRAFFIC has collaborated with Chinese communities to reduce illegal trade in endangered species, including Tigers and Asian Elephants, in many parts of the world" noted Mulliken.  "The visit of the Tigerphant to Chinatown provides a great opportunity to strengthen this collaboration in London."
In the afternoon, a reception for the artists and conservationists involved in Elephant Parade was held in Covent Garden, where Mark Shand of Elephant Family, the charity behind the event, spoke of the urgent need to create habitat corridors to help conserve Asian Elephants.
All 258 of the elephant statues will be on display until the end of June when most will be sold at auction at Sotheby's. However, online bidding is already open, with the top-placed bid for a statue named Mammoth Metaphor by artist Peter Beard already commanding a bid of GBP50,000.
---