Massive African ivory seizure in Malaysia
UPDATE: Royal Malaysian Customs has confirmed to TRAFFIC that the final tally of ivory seized at Port Klang is 2,341 pieces, weighing  a total of 6,034.3 kilogrammes. This makes it one of the largest seizures on record, but not more than the current record seizure, of 7.2 tonnes seized in Singapore in 2002.

Kuala Lumpur, Malaysia, 11th December 2012 – Royal Malaysian Customs have made their largest ever seizure of ivory in transit through the country, finding 1,500 pieces of tusks hidden in wooden crates purpose-built to look like stacks of sawn timber.
---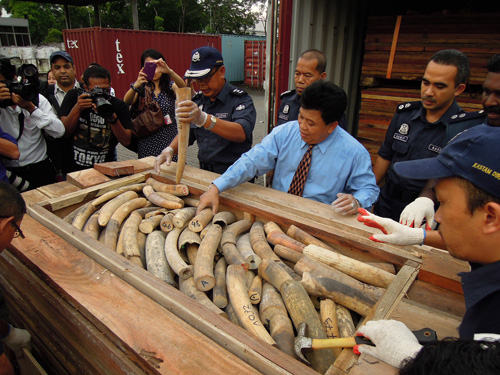 The ivory, stashed in ten crates which were divided between two containers, were shipped from the port of Lomé in Togo and were headed to China, the Selangor State Customs Director Dato' Azis Yacub told a press conference today.
The shipment also transited through Algeciras in Spain before it headed for West Port in Port Kelang, one of Peninsular Malaysia's busiest container terminals.
The two containers, declared to be carrying "wooden floor tiles acajou", were held on December 7th and inspected last night. After removing the top layer of the crates, officers found the ivory in a secret compartment measuring about one metre deep.
A Malaysian company based at the port is being investigated and if convicted, the company could face up to RM500,000 in fines and individuals a maximum of five years in jail, or both.
Togo is known to be a major source of ivory exiting Africa. Although it has never reported a seizure to ETIS (the Elephant Trade Information System, managed by TRAFFIC on behalf of Parties to CITES), the country is regularly implicated in reported seizures. 
This is the fourth seizure of African elephant ivory at Port Kelang and the sixth in the country since July 2011. In September 2011, 695 elephant tusks weighing close to two tonnes were seized in Port Kelang and in January this year, another seizure in December 2011 yielded 1.4 tonnes of ivory, and in January this year, a consignment weighing 492 kilogrammes was also seized there, seizures have also were been made in other ports of Penang and Johor. Tentatively, the Customs Department has estimated the weight of yesterday's seizure at a staggering 20 tonnes.
Concern over Malaysia's role as a transit point for illegal ivory shipments was highlighted at a meeting of CITES (the Convention on International Trade in Endangered Species of Wild Fauna and Flora) this July: the country was asked to report on what action it has taken to address the issue. 
Azis called on the public to continue providing the department with information that would help them stop more shipments like these. He assured that informants identities would be kept confidential and a financial reward would be paid if the information led to a successful case.
"TRAFFIC commends the Customs Department on its vigilance and hopes to see it pursue all leads towards finding the criminals that are using Malaysia as a transit point for ivory," said Dr William Schaedla, TRAFFIC's Director in South-East Asia. 
"We also urge authorities to ensure proper systems are in place to catalogue and stockpile the seized ivory," Schaedla. 
TRAFFIC also encourages all the countries implicated in the seizure to investigate the case thoroughly, so that those behind the shipment can be traced and brought to justice.
---