Marine turtle trade highlighted as Hainan launches Year of Aquatic Wildlife Conservation 2013
Hainan, China, 3rd April 2013—In support of Hainan Province's annual initiative on aquatic wildlife conservation, TRAFFIC has urged stakeholders to continue their efforts to prevent illegal trade in marine turtles and other aquatic species. 
---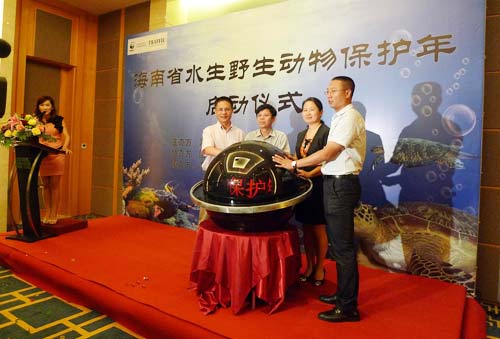 2013 has been named the Year of Aquatic Wildlife Conservation in Hainan, and the provincial Department of Ocean and Fisheries has prioritized capacity building, public advocacy and law enforcement as the three main pillars of action, with a focus on marine turtles and giant clams. 
Dr Jianbin Shi, Head of TRAFFIC's China programme, addressed about 50 representatives from local agencies who will be collaborating to implement the 2013 work plan from March to December 2013.   
"Hainan province is a hotspot for illegal trade in marine turtles and this new initiative will definitely increase public awareness about marine turtle conservation and lead to strengthened enforcement against illegal trade in aquatic wildlife, including marine turtles," said Dr Shi.
"TRAFFIC will be more than happy to leverage our expertise and collaborate with local agencies to support this important initiative," added Shi.
Local agencies, including the CITES Management Authority, Customs, Forestry Bureau, Border Police, Industry & Commerce Department, Fishery Supervision Bureaus will soon formalize a Provincial Inter-agency CITES Enforcement Coordination Group (PICE-CG). This will further strengthen enforcement action against wildlife crime, as well as more effectively implement the updated CITES outcomes, which were announced last month in Bangkok. 
TRAFFIC's media partner, Hainan News Radio (HNR) also committed to supporting the following activities.
"As local media, we do have responsibility to help protect marine turtles and other marine species, which are real treasures for the natural resources in Hainan," said Ling Wang, director of HNR, the most influential news radio in the province. 
"We will definitely help promote this initiative on our channel and will ask our peers to do the same."
Besides the radio broadcast, the Year of Aquatic Wildlife Conservation has been reported by online media and television, including the Travel Channel, a satellite channel with national reputation and Xinhua News Agency, the biggest news agency in China.  
From 2009 to March 2013, TRAFFIC has pursued a series of activities focusing on marine turtle conservation in the provinces of Guangxi and Hainan, two hotspots in China in terms of illegal catch, processing and trade of marine turtles.  Trainings were conducted to build capacity for local enforcement teams and advocacy campaigns were held to raise public awareness targeting government, fishing industry, market stakeholders and community groups, including key youth demographics.  
TRAFFIC's work to stop illegal trade in marine turtles and marine turtle products are part of the wider conservation efforts of the WWF Coral Triangle programme.
---