Man arrested over Tiger poisoning incident
Update: In October 2010, Akmalul Mukminin was sentenced to 46 months in jail for the Tiger killing, plus fined IDR1 million (USD 112) in lieu of an additional 2 months in jail.
Jambi, Indonesia, 22nd June 2010—Indonesian police have arrested a 24-year old who allegedly poisoned and skinned a Sumatran Tiger in a state-owned zoo in Jambi province, on the east coast of central Sumatra.
---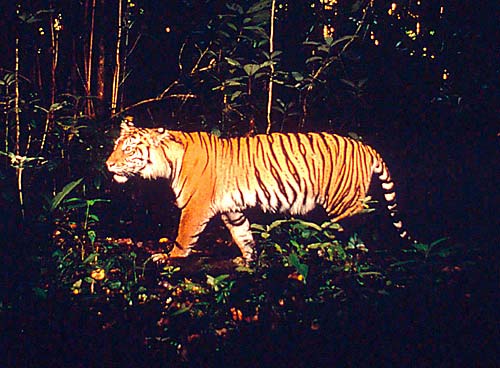 Akmamul Mukminin was detained for allegedly killing the Tiger by placing poisoned bait in its enclosure after hours, then skinning it on the zoo grounds.
He is the second person arrested for the shocking crime at the Kebun Binatang Taman Rimbo last August.
In January, the Jambi court sentenced one of Mukminin's accomplices, Samsudin alias Udin Bolu, to 46 months in jail. The court also fined Samsudin, Rp 1 million (USD111) or two months jail in default of the fine.
The mastermind and three other accomplices, all on the Wanted Persons Register, are still at large, news reports said.
Mukminin was arrested on 17 June at a shopping complex in Jambi city and could face up to five years in jail and a fine of Rp 100 million (USD11,000) for killing the protected animal.
 "This arrest by Indonesian authorities and the ongoing search for remaining suspects is exactly the kind of tenacity and commitment necessary to fight the illegal tiger trade," said TRAFFIC Southeast Asia Regional Director Dr William Schaedla. 
"That this can happen in a zoo just goes to show the tremendous threat facing Sumatran Tigers."
Sumatran tigers are Critically Endangered. There are only an estimated 400 left in the wild and these are under extreme pressure from poachers and traffickers.
Wildlife poaching is a serious concern in the area with the available habitat in the vicinity of Jambi known to be a considerable source for Sumatran Tigers and other wildlife that is traded both domestically and internationally.  Just last month Jambi Marine Police arrested three men who were attempting to smuggle 72 pangolins from a port in the province.
In a series of raids in July and August last year, authorities seized over 30 Tiger skins from traders in Indonesia including some Sumatran Tiger skins. Four traders in Jakarta were also arrested last year and found guilty of illegally possessing and selling Tiger skins, bones and teeth.
Tiger body parts, including canine teeth, claws, skin and bones were found for sale in 10 percent of the 326 retail outlets TRAFFIC surveyed in 2006, in 28 cities and towns across Sumatra. Outlets included goldsmiths, souvenir and traditional Chinese medicine shops.
Based on the canine teeth on sale, the survey conservatively estimated that 23 Tigers were killed to supply the products seen.
"We commend the authorities on their strict action in this case and urge them to remain vigilant in their efforts to eliminate this insidious trade," said TRAFFIC's Tiger Trade Programme Manager Pauline Verheij.
"Those responsible for the butchering and trafficking of Tigers must be made aware that what they are doing is unacceptable and that they will face the full weight of the law," she added.
---