Logistics giant trains to help prevent wildlife smuggling
Singapore, 3rd October 2015—Key employees from DHL in Singapore took part in a TRAFFIC-led workshop designed to help logistics providers prevent the smuggling of wildlife.  
---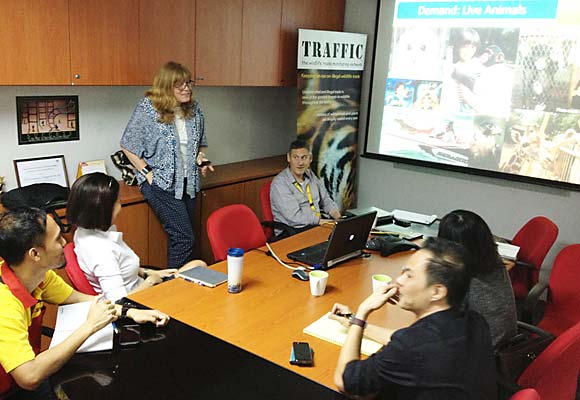 The workshop was organized to raise awareness of the risks which illegal wildlife traffickers pose to transport and logistics companies and to identify and discuss measures which can be taken to combat the illegal trade.
Examples of seizures of packages and larger shipments given during the workshop clearly illustrated the use of logistics providers by illegal wildlife traffickers to transport their goods.  DHL Express prohibits the transport of all live animals, as well as ivory and other wildlife products which are not allowed to be traded internationally.  
Participants learnt about wild animals and plants commonly smuggled in Southeast Asia and the methods often used by traffickers to hide contraband during the programme which was funded by the United States Agency for International Development (USAID), through the Wildlife Trafficking Response, Assessment and Priority Setting (Wildlife TRAPS) Project. The Agri-Food and Veterinary Authority Singapore (AVA), provided details on the Convention on International Trade in Endangered Species of Fauna and Flora (CITES) and on the AVA's enforcement efforts.
TRAFFIC will continue to provide information to DHL on illegal wildlife trade through similar workshops planned for DHL employees in other Southeast Asian countries.
DHL, part of Deutsche Post DHL group is the leading global brand in the logistics industry, with more than 325,000 employees in over 220 countries and territories worldwide, connects people and businesses securely and reliably, enabling global trade flows. 
 "The logistics sector is such a critical link in the global supply chain and TRAFFIC is very encouraged that industry leaders like DHL are keen to be part of the global effort to stop wildlife crime," said Claire Beastall, Training and Capacity Building Co-ordinator for TRAFFIC in Southeast Asia.  
This engagement with one the biggest players in the logistics sector follows from a February 2015 initiative by TRAFFIC that brought together industry representatives, Customs officials, supply chain experts and wildlife professionals to find actionable solutions to deter wildlife smuggling activities while strengthening supply chains and corporate policies.  
Subsequent activities have included the March 2015 signing of a zero tolerance pledge against illegal wildlife by DHL and 16 other leading courier companies in China, and the Etihad Airways and UAE workshop on illegal wildlife smuggling held in Abu Dhabi last month.  
TRAFFIC is committed to continual engagement with the transport sector, and is confident that such collaborative approaches are key to successfully reducing the illegal trade in wildlife.
---