Live crocodiles and turtles seized in airport baggage
Bangkok, Thailand, 2nd June 2011—Airport and Customs officials at Bangkok's Suvarnabhumi Airport have seized close to 500 live protected animals stuffed into four bags, among them hundreds of turtles, tortoises and seven Gharial crocodiles.
---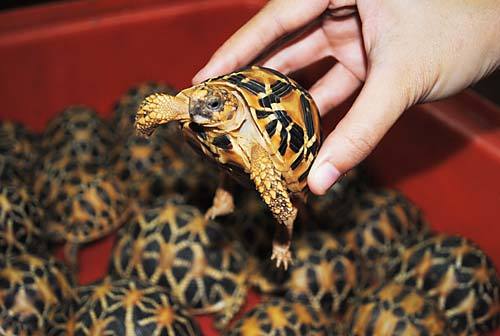 Gharials are a Critically Endangered species, found only in South Asia; they are the longest living and second largest of the world's crocodile species, with a distinctive long snout. 
The initial discovery was made by officers from Airports of Thailand (AOT) on Wednesday during a routine x-ray of three suitcases registered to a Bangladeshi national travelling from Dhaka to Bangkok. 
After the x-ray revealed shapes resembling turtles, the officials open the bags and found them packed with several species of turtles and tortoises. A fourth bag registered to the same traveler contained further animals. 
The traveller to whom the bags were registered was not apprehended. 
Among the 451 turtles and tortoises found in the bags were Narrow Headed Softshell Turtles, Assam Roofed Turtles, Spotted Pond Turtles, Striped Narrow Headed softshell turtle and 35 Indian Star Tortoises, plus the 7 Gharial crocodiles. 
Press quoted Prasong Poontaneat, director-general of Thailand's customs department as saying that the turtles were likely destined for Bangkok's infamous Chatuchak Market where they would have been sold as pets. 
The Spotted Pond Turtle and Gharials are both listed in Appendix I of the Convention on International Trade in Endangered Species of Fauna and Flora (CITES), which prohibits commercial international trade in these species.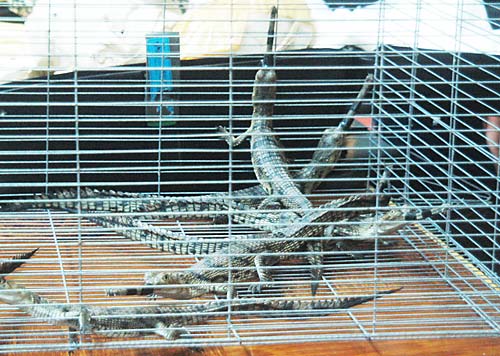 The Assam Roofed Turtles, Indian Star Tortoises and the Critically Endangered Narrow Headed Softshell Turtles are all listed in Appendix II of CITES, which restricts their international trade. 
This March, experts meeting in Singapore concluded that illegal and unsustainable trade was the greatest threat to the survival on freshwater turtles and tortoises, nowhere more so than in Asia, where 68 percent of the world's top 25 most threatened species are native. 
"This seizure vividly illustrates the insidious illicit trade that is systematically wiping out Asia's freshwater turtles and tortoises," said Dr Richard Thomas, Communications Co-ordinator for TRAFFIC. 
The seizure also highlights the illegal trade links between South Asia and Southeast Asia. This is not the first case involving the trafficking of turtles from Bangladesh to Bangkok. 
Last year Customs officials stopped two shipments consisting of over a thousand turtles from Bangladesh at Suvarnabhumi International Airport.
The confiscated animals are being cared for at a National Parks, Wildlife and Plant Conservation Department rescue centre.
---