Key tropical timber trade meeting in Japan
Yokohama, Japan 13th December 2010—Members of the International Tropical Timber Trade Organization (ITTO) meet this week in Japan where key issues on the agenda will include how to balance timber production from the world's rainforests with the need for sustainable development and conservation. 
---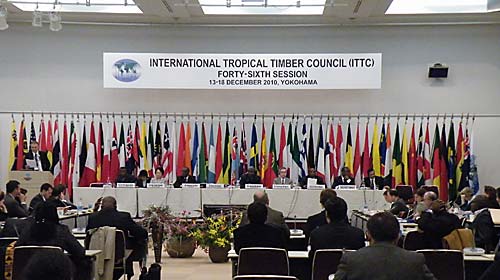 The ITTO is an intergovernmental organization whose members represent about 80% of the world's tropical forests and 90% of the global tropical timber trade. 
TRAFFIC will be present at the meeting as observer and through its role on ITTO's Civil Society Advisory Group (CSAG). 
A key topic on the agenda will be ITTO's interaction with CITES (the Convention on International Trade in Endangered Species of Wild Flora and Fauna). 
CITES is the principle intergovernmental agreement dealing with trade in all wildlife species, yet at the most recent meeting of Parties to CITES, proposals for listing timber species in the Convention's Appendices were conspicuous by their near absence. 
"The role of CITES in helping regulate a sustainable global timber trade is a crucial area where the ITTO can make substantial progress this week," said Chen Hin Keong, TRAFFIC's Global Forest Trade Programme Leader. 
Tropical timber species already listed in CITES include Big-leaf Mahogany, Cedrela, Afromosia, Guayacan, Almendro, Ramin and Red Sanders. Other tropical tree species listed due to their non-timber values include African Cherry Prunus africana, Asian yews and agarwood.
TRAFFIC's input into the workings of the ITTO include investigations into the discrepancies in timber trade export and import figures between countries trading within Asia and recommendations on how and why these arise—and crucially, how they can be used to determine if illegal trade is taking place. 
Another key topic is the role of tropical forests in mitigating the effects of global climate change.
2011 has already been designated the International Year of Forests. 
"2011 could mark a watershed in the fate of the world's forests, whose potential for maintaining a stable world economy and a healthy planet ecosystem is only ignored at our own peril," said Chen.
---