Keeping it wild: Industry dialogue over the sustainability of wild plants sourcing at BioFach
Germany, 25th February 2013—TRAFFIC, FairWild Foundation representatives, partners and friends were out in force at the BioFach trade fair in Nuremberg, Germany, earlier this month.
Known as "the place where organic people meet", BioFach is an important annual event for those involved in the wild plant ingredient trade—producers, manufacturers, traders, brokers, NGOs, standard-setters, certifiers alike. And this year, wild collection was on everyone's radar.
---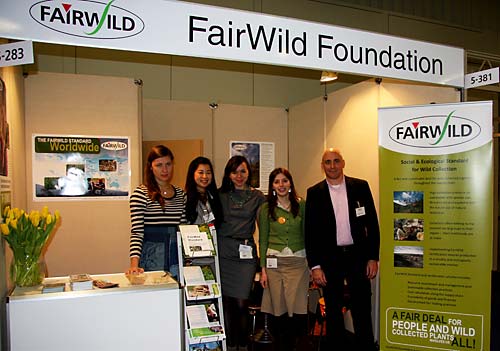 "Keeping it wild: Taking action for organic wild plant ingredients."
Addressing ecological and social issues connected with wild collection is difficult. Trade chains are long and complex and it can be hard for industry and consumers even to know when products are wild sourced. When companies switch from sourcing wild harvested to cultivated plants, it can result in a loss of essential income to harvesters, while the wild plants lose their value as a resource, often leaving them open to the threat of land conversion. To discuss these and related issues, more than 70 people attended a special BioFach Congress session on "Keeping it wild: Taking action for organic wild plant ingredients."
The FairWild Secretariat facilitated the event which followed the Congress theme of "Shared Values. Action for a Future World", and included a panel of expert speakers from a variety of stakeholder groups.
Bryony Morgan (FairWild Foundation) emphasized the importance of sustainable co-operative relationships for voluntary action, and introduced the FairWild Standard and certification scheme as a relevant framework.
Josef Brinkman (Traditional Medicinals Inc., USA) introduced his company's commitment to ensure that 100% of product lines are covered by eco-social certification schemes by 2020. This is underpinned by strong relations with suppliers, and sharing benefits with collectors and communities.
Kasia Treszczotko (Runo sp. z o.o., Poland) described her company's history as a pioneer of organic certification in Poland, and efforts to implement the FairWild Standard since 2009. FairWild certification means that collectors receive a 5% higher price for their products, providing incentives to keep the tradition of wild collection alive.
Antonia Schneider (Institute for Marketecology, Switzerland) introduced her role as a certifier of wild collection, offering audits for FairWild and organic wild crop harvesting schemes.
Susan Curtis (Neal's Yard Remedies, UK) explained past company decisions to discontinue use of some ingredients because of sustainability concerns. FairWild Standard provides a framework for sustainable sourcing, which the company plans to test for Frankincense, used in a range of popular cosmetic products.
Anastasiya Timoshyna (TRAFFIC) spoke of her experience supporting market-based approaches to conservation. NGOs can facilitate a neutral place to make connections in the value chain, share information, and find collaborators. They can also contribute technical expertise, and create consumer draw through awareness-raising efforts. The FairWild Standard provides a valuable reference and tool – but a pre-requisite is a common commitment to change, and to invest in developing open and trustful relationships.
The panel presentations were followed by audience discussion. One hot topic was the demonstration of positive impact (ecological and social) throuh application of the FairWild Standard, or value addition in the case of certification. Participants also discussed different approaches to consumer messaging on sustainability.  
TRAFFIC promoted current FairWild projects at BioFach, including those in Viet Nam and Central Europe. Specifically, the outcomes of a 'Traditional and Wild' project in Central Europe (implemented  through the CENTRAL EUROPE Programme co-financed by the ERDF) were highlighted to food and herbal products manufacturers and others. A number of companies expressed interest in some of the priority wild plant species selected in the project, including Common Juniper Juniperus communis, European Blueberry Vaccinium myrtillus, Common Horsetail Equisetum arvense and Dog Rose Rosa canina.
Bryony Morgan, Executive Officer of the FairWild Foundation, said, "We hope that BioFach's organic community will continue to be at the forefront of the environmental movement, helping make sustainable and equitable wild harvesting a reality."
---
Notes:
1. BioFach is the world's largest organic trade fair, taking place in 2013 for the 24th year in succession. In 2013, it was attended by 2,396 exhibitors, and 41,500 visitors from 129 countries. The natural cosmetics segment of the exhibition is organized parallel to BioFach as Vivaness (Trade Fair for Natural Personal Care and Wellness).

2. The FairWild Foundation representation at BioFach was kindly supported by Traditional Medicinals Inc.and WWF Germany.
---