In the picture: world's largest tiger mosaic unveiled
The Hague, Netherlands, 7 June 2007—A two-storey-high photo mosaic of a tiger was unveiled at the Convention on International Trade in Endangered Species of Wild Flora and Fauna (CITES) meeting today to urge world leaders to end all trade in tigers.
---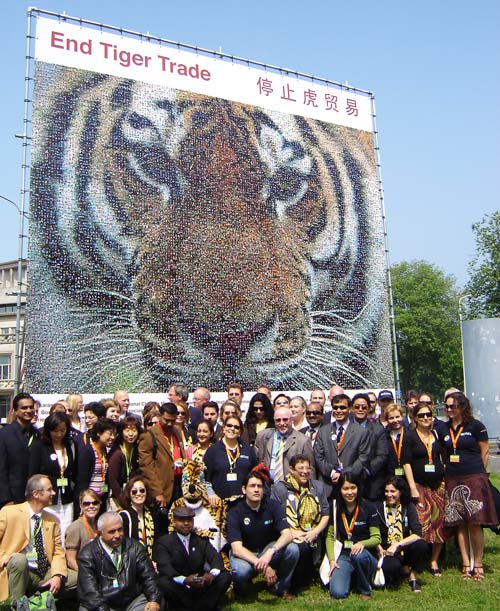 The mosaic was created from personal photos of almost 25,000 tiger lovers worldwide. People from at least 146 countries contributed. 
The International Tiger Coalition, comprising 35 organizations, including TRAFFIC, working to save wild tigers, assembled the 36 square metre mosaic in front of the World Forum Convention Center, where delegates from 171 countries are meeting to discuss changes to CITES. 
"A mosaic made from photos of tiger fans is a powerful way to remind governments that the eyes of the world are watching what happens at CITES," said Dr Bivash Pandav, head of WWF's international tiger programme. 
Wild tigers face an emerging threat from Chinese tiger farms, which now house almost 5,000 captive-bred tigers. The farm owners are pressuring the Chinese government to lift its successful 14-year ban on domestic trade in tiger bones and products. 
The Chinese delegation to CITES distributed a position paper this week saying it was maintaining the ban for now, but listing the supposed benefits of trading products made from farmed tigers.
"As someone who works in the field to stop tiger poaching, I've seen how China's ban has eased poaching pressure on wild tigers," said Prasanna Yonzon, CEO of Wildlife Conservation Nepal. 
"Lifting the ban to allow a handful of investors to profit from selling tiger parts would doom tigers in the wild by reigniting demand. And poachers would have a greater incentive to go after wild tigers."
The coalition is calling on the Chinese government to reject the pending petition by tiger farm investors that seeks to overturn the country's ban, close down the country's numerous tiger farms and destroy the stockpile of carcasses being stored on these farms so they cannot enter illegal trade. 
To add your photo to the thousands already there, please visit www.panda.org/tigermosaic before 15 June.
---