Hunting pushes Saola to the brink
Gland, Switzerland, 7th September, 2009—One of the world's most enigmatic mammals, the Saola Pseudoryx nghetinhensis, is on the brink of extinction, according to a group of experts who held an emergency meeting in Vientiane, Lao PDR, to try to save the animal. 
---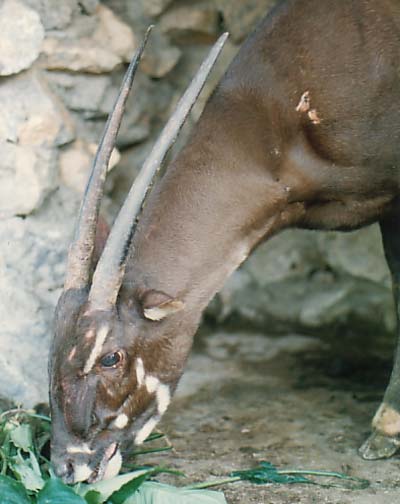 The meeting identified snaring and hunting with dogs, to which the Saola is especially vulnerable, as the main direct threats to the species. 
Experts emphasized that the Saola cannot be saved without intensified removal of poachers' snares and reduction of hunting with dogs in key areas of the Annamite forests, along the border of Lao PDR and Viet Nam. 
Improved methods to detect Saola in the wild and radio tracking to understand the animal's conservation needs are also needed, according to the biologists. 
"We are at a point in history when we still have a small but rapidly closing window of opportunity to conserve this extraordinary animal," says William Robichaud, Coordinator of the Saola Working Group, set up by IUCN's Asian Wild Cattle Specialist Group. 
"That window has probably already closed for another species of wild cattle, the Kouprey, and experts at this meeting are determined that the Saola not be next." 
The Saola, which was only discovered to world science in 1992, resembles the desert antelopes of Arabia, but is more closely related to wild cattle. 
Experts agreed that Saola numbers appear to have declined sharply since its discovery in 1992, when it was already rare and restricted to a small range. 
The Saola is listed as Critically Endangered on the IUCN Red List of Threatened Species. No animals are held in zoos and almost nothing is known about how to maintain them in captivity.
---