Hotline tip leads to bust by Wildlife Crime Unit
Kuala Lumpur, Malaysia, 31st March 2008—Acting on a tip-off to the Tiger Crime Hotline, the Department of Wildlife and National Parks' (DWNP) Wildlife Crime Unit raided a house in Gombak, Selangor, on 28 March, and seized frozen meat and skins of species including Barking Deer, Mousedeer and Malayan Porcupine.
---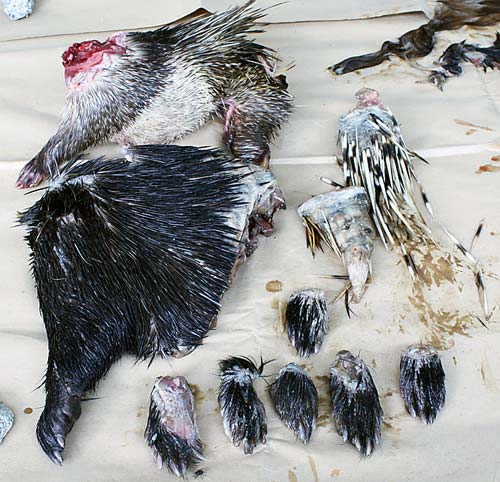 A man was arrested on suspicion of violating the Protection of Wild Life Act 1972 and possible firearm-related laws after the wildlife products and an apparent homemade shotgun, ammunition and a whistling device to attract deer were also found during the raid. He was handed over to Police. 
The 24-hour Tiger Crime Hotline was established by the Malaysian Conservation Alliance for Tigers (MYCAT) to encourage public reporting of possible crimes against Tigers and their prey. Public Service Announcements about the hotline first aired on local radio stations on 24 March. 
If found guilty of violating the Wild Life Act, the suspect faces a fine of up to RM3,000 (USD940) and/or 3 years in jail for each offence committed involving protected species—potentially a maximum fine of RM9,000 (USD2810) and 9 years in jail. 
"Now what is needed is for the judiciary to ensure that if found guilty, he is punished to the full extent of the law," said Dr Sivananthan Elagupillay, DWNP Law and Enforcement Director. 
"We need the public to be our eyes and ears to fight the crime against protected wildlife," he said, adding that the confidentiality of informants is assured, and upon conviction, a cash reward will be provided. 
"TRAFFIC applauds the Department of Wildlife and National Parks for the swift action," said Azrina Abdullah, Regional Director for TRAFFIC Southeast Asia. "This is a good example of how the public can work together with the government to stop the illegal wildlife trade in Malaysia".
"Tigers will be wiped out this century if we don't stop poachers and dealers from killing and trading Tigers and their prey species," Azrina Abdullah, Regional Director for TRAFFIC Southeast Asia
"We need more media partners to publicise the hotline so that the public can help us put poachers behind the bars," said Dr Kae Kawanishi, MYCAT's tiger conservation biologist.
In Malaysia, any suspected crimes involving Tigers and their prey (such as deer and Wild Pig) can be reported to the authorities by sending an SMS or calling 019 356 4194. 
The Tiger Crime Hotline is sponsored by the US Fish and Wildlife Service and Save the Tiger Fund. MYCAT is a partnership between the Malaysian Government and NGOs committed to saving the Malayan Tiger. MYCAT partners are the Department of Wildlife and National Parks, Malaysian Nature Society, TRAFFIC Southeast Asia, the Wildlife Conservation Society and WWF-Malaysia.
---