Hong Kong authorities called upon to address illegal fish trade
Hong Kong, 2 February 2007—Reef fish such as Humphead Wrasse (also known as Napolean Wrasse, Cheilinus undulatus) are fast disappearing largely due to weakly regulated and illegal international trade, according to TRAFFIC. As the major consumption market and trade hub, TRAFFIC is calling upon Hong Kong authorities to take the initiative to work closely with source countries in the region to ensure the sustainable trade in Humphead Wrasse.
---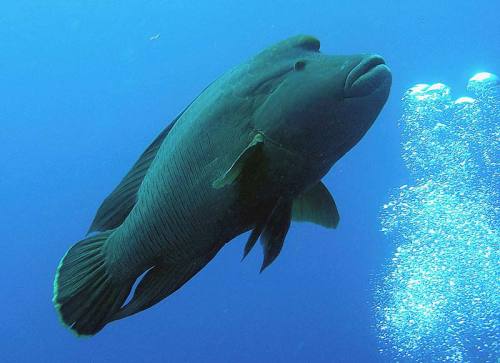 The issue was highlighted by an incident on 21 December 2006 when the Hoi Wan, a Hong Kong-licensed fishing vessel with a P.R. China crew carrying tonnes of illegally caught fish, was seized by Philippine officials off the waters of the strictly protected Tubbataha Reef National Marine Park in the Sulu Sea. Tonnes of high-value fish, including 350 endangered Humphead Wrasse, were discovered in the vessel's hold. The crew did not possess necessary CITES or Philippine government permits to buy, catch or possess the fish. Philippine authorities have filed multiple criminal charges against the owners and crew of the Hoi Wan, while the crew has been temporarily released on bail pending arraignment.
The world's largest coral reef fish, the Humphead Wrasse is a prized delicacy served in high-end restaurants with a price tag of over USD100 per kg. Hong Kong represents the largest known market for this species, although upscale eateries in Malaysia, Singapore and mainland China are also known to offer servings of the electric blue fish. Much of the fish coming into Hong Kong is re-exported to mainland China.
Illegal poaching of this species is destroying livelihoods of legal fishermen and traders, as well as delicate coral reef habitats, through destructive fishing practices used to deliver live fish to markets.
The species has been listed in Appendix II of the Convention on International Trade in Endangered Species of Wild Fauna and Flora (CITES) since 2004, which means that international trade is possible only with valid CITES permits. The CITES Appendix II listing helps supply and consumer countries to ensure that the trade in the species is both legal and sustainable.
In Hong Kong SAR, a permit from the Agriculture, Fisheries and Conservation Department (AFCD) is required for the import, introduction from the sea, export, re-export and possession of Humphead Wrasse and its derivatives. In China, a permit from the CITES Management Authority is required for the import, introduction from the sea, export, and re-export.
Practical recommendations for making the trade both legal and sustainable, and also for promoting increased awareness among the fisheries industry, governments and consumers, were developed at a workshop to discuss the control of the international trade in Humphead Wrasse, which took place in Hong Kong SAR in June 2006 and included participants from all the major consumer and source countries of Humphead Wrasse (Indonesia, the Philippines, Malaysia, China, Hong Kong SAR and Papua New Guinea), as well as representatives from the Food and Agriculture Organization of the United Nations (FAO), the World Conservation Union (IUCN), TRAFFIC, WWF and Hong Kong SAR's seafood traders.
Recommendations for all source and consumer countries include an enhanced CITES management plan, better trade monitoring and collection of fisheries data, and active law enforcement to ensure compliance with CITES requirements. Measures to improve awareness of the fisheries industry and consumers were also recommended, as well as the need for all parties to better monitor progress based on scientific evidence of whether destruction continues of Humphead Wrasse populations.
"The major challenges come from Humphead Wrasse being transported by sea, as regulations requiring permits for Humphead Wrasse transported by sea to Hong Kong are relatively new," said Andy Cornish, Conservation Director of WWF Hong Kong.
"AFCD's leadership has been crucial to protecting the Humphead Wrasse. We now call on AFCD and others to quickly implement these recommendations before it is too late," said Timothy Lam of TRAFFIC East Asia.
"Sustainable trade benefits everyone in the long term."
The full report of the June 2006 Hong Kong workshop on Humphead Wrasse (Western Pacific Workshop on Policy, Enforcement and Sustainable Trade for the CITES Appendix II – Listed Humphead/Napoleon wrasse, Cheilinus undulatus) can be downloaded from www.traffic.org
Further information:
Caroline Liou, Programme Officer – Communications, TRAFFIC East Asia - China Programme. Tel: +86 10-6522-7100 ext. 3811, email: Enable JavaScript to view protected content.
---