Abalone to come under international trade controls
Cape Town, South Africa, 5 February 2007—South Africa has taken a decisive step towards stemming the illegal harvest and trade of its endemic abalone species, Haliotis midae, by listing it in Appendix III of the Convention on International Trade in Endangered Species of Wild Fauna and Flora (CITES). The listing, which comes into effect on 3 May 2007, requires all future consignments of H. midae, more commonly known as perlemoen, in international trade to be accompanied by CITES documentation.
---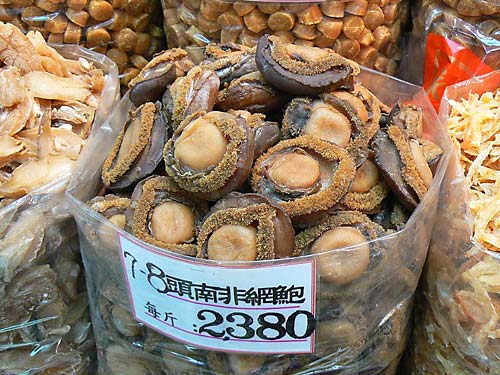 "The CITES listing has the potential to reduce illegal harvest and trade in this valuable and sought-after marine mollusc and the South African government is to be congratulated on taking this initiative", says Markus Bürgener of TRAFFIC, the wildlife trade monitoring network of WWF and IUCN. "However, the listing alone is unlikely to secure results and much will depend on the support provided to Customs and CITES officials in all countries through which the product is traded."
Illegal exploitation of abalone in South Africa is believed to be the most criminalized wildlife trade in Africa today. Continued illegal harvest and trade could result in the species becoming unviable to fish commercially, which may cause the closure of the legal fishery and the loss of many hundreds of jobs. Poaching of perlemoen has resulted in the total allowable catch in the legal commercial fishery being reduced from 430 tonnes in the 2002/2003 season to 125 tonnes for the 2006/2007 season.
TRAFFIC is concerned that over-harvesting is threatening the conservation status of the species and could impact on the intricate balance of associated marine reef systems. While South Africa is the only country to have listed an abalone species on CITES, Bürgener noted that "many other abalone exporting countries, such as Australia and New Zealand, are also attempting to address poaching and illegal trade."
The majority of abalone harvested in South Africa is exported to East Asia, with Hong Kong the major importer. Other major destinations include Taiwan, China and Japan. Poached abalone is frequently smuggled into the neighbouring States of Zimbabwe, Mozambique and Swaziland, from where it is exported. Although no abalone species are either commercially harvested or legally traded through these countries, Hong Kong import data have revealed imports of dried and frozen abalone from all three countries. Poached abalone is also traded through Namibia and this poses enforcement challenges since there are legal commercial aquaculture operations in Namibia producing and trading in perlemoen.
Despite commendable efforts by the South African government to address the poaching, including the establishment of an environmental court specifically to deal with abalone-related criminal cases, the international nature of the trade means that there is a need to secure the assistance of other countries and this is most effectively achieved through the CITES listing.
TRAFFIC is working in close collaboration with the South African Department of Environmental Affairs and Tourism and South African Revenue Services to ensure that South African administrative staff and Customs officials are equipped to implement the listing.
Perlemoen is one of three abalone species that can only be found in South African waters and nowhere else in the world. The meat of perlemoen is a highly valued delicacy and considered to be an aphrodisiac in some East Asian countries. Its shells are also sought after as ash-trays, soap-holders and food receptacles. It is a highly lucrative trade, with dried perlemoen able to fetch prices of up to USD1,000/kg during the Chinese New Year, which this year occurs on 18 February.
"WWF, the conservation organisation, applauds the listing of abalone on Appendix III of CITES as an attempt to cut the illegal harvesting of this precious marine resource. Apart from enhancing the sustainability of the abalone stocks, it is critical that the millions of Rands lost to the illegal poaching of abalone is turned into valued foreign revenue," says Dr Rob Little, Director of Conservation at WWF South Africa.
---