Hands-on training for enforcement officers in Myanmar
Hmawbi, Yangon, Myanmar, 15th February 2013—Law enforcement officers from across Myanmar participated in a series of workshops on wildlife trade and species identification last month, getting hands on training that will strengthen the resource-rich country's ability to battle wildlife traffickers.
---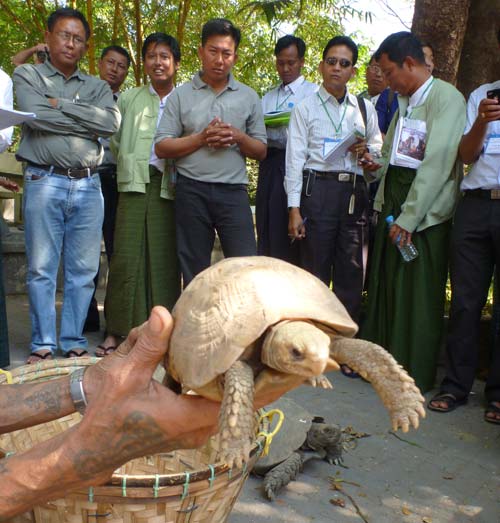 The workshops were organized and delivered by frontline officers who received prior training under a project funded by The Ministry of Environment-Japan, the secretariat of the East and Southeast Asia Biodiversity Information Initiative (ESABII). 
The course aimed to provide taxonomic and legal information necessary to allow officers to identify species they find in trade; essential skills in the enforcement of wildlife trade legislation and protection of endangered species
Over 60 participants attended the workshop including officers from the Myanmar Forestry Department, Myanmar Police Force, Department of Fisheries, Department of Border Trade, Customs Department, Myanmar Port Authority, Department of Rural Development, Immigration Department, Directorate of Trade Union, Office of the Attorney General, the General Administration Department and representatives of the local District Law Office.
The recent workshops follow on from Training of Trainer (ToT) courses held in Malaysia in 2011, where participants from 12 Asian countries were provided materials and training to conduct their own in-country training. 
Myanmar is the third country to hold follow-up workshops after Viet Nam (2011) and Cambodia (2012). All of the ESABII workshops have had the support of the ASEAN Wildlife Enforcement Network (ASEAN-WEN), which works regionally to address illegal wildlife trade. 
Participants were equipped with ASEAN-WEN Identification Sheets for Species Commonly Found in Trade in South-East Asia. TRAFFIC has produced five new species identification sheets which will be added to the current set and translated for use in 12 Asian countries. 
Experts from the Forestry Department, the Wildlife Conservation Society Myanmar Programme and Friends of Wildlife led practical training sessions, in which officers received hands on training on the identification of freshwater turtles and tortoises as well as other species commonly traded in the region. Two of those main lecturers were the participants of the ToT in Malaysia.
"Myanmar is a biologically-rich country which needs to conserve its unique nature and biodiversity. It is vital that the Government agencies and institutions responsible for protecting wildlife co-ordinate and co-operate in the fight against the illegal wildlife trade," said Win Naing Thaw, Director of the Forest Department's Nature and Wildlife Conservation Division. 
"Community participation and co-operation is very important to the success of wildlife law enforcement in Myanmar; the Government cannot do this alone," he added.
Sharing borders with China, India, Bangladesh, Thailand and Lao PDR, biodiversity-rich Myanmar is used as a source and transit country for the international illegal trade in wildlife. Previous work by TRAFFIC has highlighted the trade in big cats, bears and ivory in the country. 
"Raising the profile of the illegal wildlife trade in South-East Asia and providing enforcement officers with the tools they need to combat these activities is vital," said Claire Beastall, TRAFFIC's Training and Capacity Building Co-ordinator in Southeast Asia. 
"We are confident these two workshops will be the first of many to be held in Myanmar."
ESABII was launched in 2009 by 14 countries in East and Southeast Asia and relevant organizations to achieve the goals of the Convention of Biological Diversity (CBD) through the development of biodiversity information systems and taxonomic capacity building.
---