Enforcement officers put in the picture
Update, April 2013: a revised, second edition is available, including a number of additional identification sheets.
Bangkok, Thailand, 19th November 2009—One of the hardest daily challenges facing wildlife law enforcement officers is to recognize which species are being traded in order to determine if the trade is legal. 
---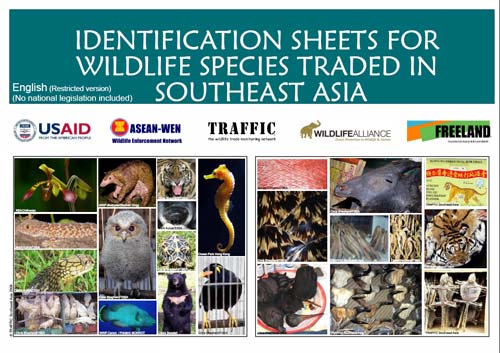 To assist them, the ASEAN-Wildlife Enforcement Network (WEN) Support Programme has today launched a set of simple identification sheets to provide frontline enforcement officers with a user-friendly tool designed to help them decide whether a species is being traded legally or not. 
The ASEAN region is a major hub of trade in wildlife, functioning both as supplier and consumer of plants, animals and their derivatives. Nearly all the major groups of plants and animals found within this biodiverse area are traded. 
Unscrupulous traders often label shipments of rare and threatened animals as common species that can be legally traded, in the hope that officers inspecting the shipment can't tell the difference.
"It's obviously impossible for officers to be experts in the identification of every wildlife product they come across, which is why ASEAN-WEN has produced these simple guides" commented Dr Chumphon Sukkaseam, Senior Officer of the ASEAN-WEN Programme Coordination Unit (PCU). 
The sheets were compiled by Claire Beastall of TRAFFIC Southeast Asia as part of the US Agency for International Development (USAID) funded ASEAN-WEN Support Programme. 
"The need for such guides has long been recognized," commented Chris R. Shepherd, Acting Director of TRAFFIC Southeast Asia. 
"Today, law enforcement officers have been effectively equipped to detect and identify illegal trade in wildlife as well as the ways wildlife may have been smuggled through them in the past. 
"I am confident these guides will help plug a gaping hole in wildlife enforcement efforts in the region." 
The English version of the identification sheets is available for download here and on the ASEAN-WEN website, and translated versions will be delivered to countries throughout the ASEAN region. 
The sheets will be available in Bahasa Malaysia, Bahasa Indonesia, Burmese, Khmer, Lao, Filipino, Thai and Vietnamese.
ASEAN-WEN is the world's largest wildlife law enforcement network, comprised of Brunei Darussalam, Cambodia, Indonesia, Lao PDR, Malaysia, Myanmar, Philippines, Singapore, Thailand, and Viet Nam. The United States and China are also co-operating with ASEAN-WEN. TRAFFIC and FREELAND Foundation provide technical assistance for the implementation of activities under ASEAN-WEN. 
---