Ginseng smuggling ringleader jailed for four years
Russia, 22nd May 2018—A former police officer and ringleader of a ginseng smuggling operation has been jailed for 4 years for his part in the illegal transportation of more than 3,000 Wild Ginseng roots from the Russian Federation to China. 
---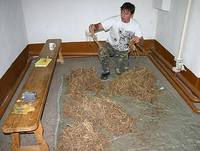 The arrest came following two majors seziures of Wild Ginseng in August and October 2007 by the Russian Federation's Far Eastern Operative Customs. A total of 29 kg of Wild Ginseng, comprising 3,142 roots, was recovered. 
The verdict was handed out by Pogranichny District Court in Primorsky province of the Russian Federation on 15 May. An accomplice received a 2 year jail sentence. 
"We congratulate the Far Eastern Operative Customs on this seizure, and the District court for recognizing the seriousness of this crime," commented Natalia Pervushina, co-ordinator of TRAFFIC's Russian Far East programme.
"TRAFFIC and WWF hope the latest prosecution marks the start of wildlife crime being treated with the seriousness it deserves." 
Wild Ginseng is listed as in the Russian Red List of threatened species and is listed in Appendix II of CITES (the Convention on International Trade in Endangered Species of Wild Fauna and Flora). Wild Ginseng is regarded as a symbol of the Ussuriisky taiga. However, excessive harvesting and poaching of Wild Ginseng in the Russian Far East, particularly during the 1990s, have massively depleted its availability as a natural resource. 
Illegal trade poses a direct threat to many species in this region and causes significant economic losses. The problem is compounded by weak Russian legislation, which fails to take into account the intrinsic value of the natural resoucres being smuggled.
Pavel Fomenko, WWF Amur branch biodiversity conservation programme co-ordinator added: "The Wild Ginseng harvesting season will soon start, but currently there are no proper controls to prevent poaching. 
"Instead of making the most of this valuable natural resource, ginseng is disappearing illegally over the border to China, and Russia is losing out economically." 
---