Fuller Symposium focuses on wildlife crime
Washington DC, USA, 14th November 2012—Representatives across a diverse array of organizations will today share their insights into the growing crisis of wildlife crime during the 2012 Fuller Symposium. 
---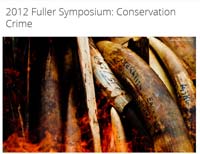 The annual Fuller Symposium was named in honour of Kathryn Fuller, the former president and CEO of WWF-US and provides a forum for in-depth examination by leading experts of key conservation issues. 
This year's event will be broadcast live on the internet, and leads with a session on "The Big Picture of Conservation Crime" at which Crawford Allan, Director of TRAFFIC in North America, will speak about the role of black market investigations and enforcement actions in dismantling conservation crime. 
Other headline speakers include Dr Robert Hormats, Under Secretary of State for Economic Growth, Energy, and the Environment at the U.S. Department of State who will speak on "Wildlife Diplomacy in Action", Rebecca Moore of Google on "Geospatial technologies for tracking and reducing conservation crime", Dr Kent Butts from the US Army War College on "Conservation crime: the national security dimensions" and Dr Elizabeth Bennett of the Wildlife Conservation Society on "Boots, science, and policy: the essential trinity to combat wildlife crime." 
The symposium comes against a backdrop where the illegal trade of wildlife has reached epidemic proportions and threatens the success of decades of on-the-ground efforts to protect tigers, elephants, rhinos and other species. 
Conservation crimes weaken government authority, wreak economic havoc, threaten food security, endanger the lives of rangers and community members, and rob nations of their valuable natural resources.
An in-depth background paper, on Dismantling Wildlife Crime, authored by Anita Sundari Akella and Crawford Allan, is available to provide background to the symposium presentations.
---