"Frankenstein" taxidermist sentenced to 20 months
Washington, USA, 2nd March 2012–A taxidermist based in Miami Beach, Florida, has been sentenced to 20 months in jail for his role in trafficking endangered wildlife. 
---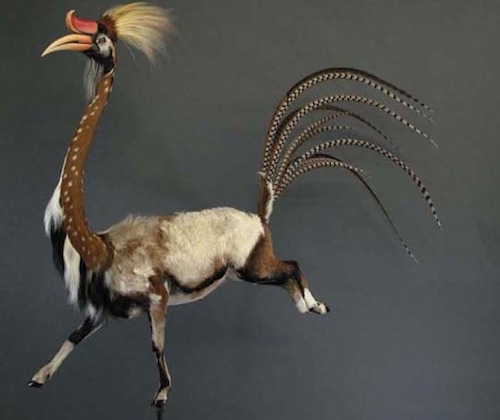 Between late 2009 and February 2011, Enrique Gomez De Molina had attempted to import a range of wildlife species into the US without the required permits.
He used the parts to create bizarre "Frankenstein" hybrids he sold as art. 
The wildlife included a wide range of species including skins of kingfishers, birds-of-paradise, skulls of babirusa and orangutans, a King Cobra, a pangolin and hornbills. 
After receipt, De Molina would incorporate the various wildlife parts into taxidermy pieces at a studio in downtown Miami. 
He offered these pieces through galleries and on the Internet for prices ranging up to USD80,000. 
De Molina's trafficking included numerous species and shipments, involving contacts in Bali, Indonesia, Thailand, the Philippines, Canada and China. 
The imports were in contravention of both CITES (the Convention on International Trade in Endangered Species of Wild Flora and Fauna) and federal laws. 
Despite the interception of two shipments in late 2009 that were ultimately forfeited by De Molina and abandoned, he continued to solicit protected wildlife from his suppliers via the Internet, and to select specific animals from photographs to be provided to him. 
The parts or carcasses of the wildlife he selected would then be shipped to him without the permits or declarations required by law. 
 "Mr De Molina trafficked in highly endangered species in violation of the law, disguising commercial exploitation of endangered species as artwork," said Ignacia S. Moreno, Assistant Attorney General for the Environment and Natural Resources Division.  
"Today, Mr. De Molina has been held fully accountable for his illegal actions, which are prohibited by both U.S. and international law."
De Molina was also sentenced to one year of supervised release to follow his prison term, a USD6,000 fine and ordered to forfeit all of the smuggled wildlife in his possession.
 "The Department of Justice and US Fish & Wildlife Service are both to be congratulated for bringing this criminal to justice and for the severity of his sentence, which will send out a strong signal to others that trafficking in endangered species will not be tolerated," said Crawford Allan, Director of TRAFFIC North America. 
"Using endangered wildlife to create hideous art pieces was a crime in every sense of the word."
---