"Wild thing" event highlights industry interest in sustainable sourcing
Nürnberg, Germany—More than 80 participants attended a special event organized by the Institute for Marketecology (IMO) and the FairWild Foundation during February's BioFach 2012—the World Organic Trade Fair—entitled "Wild thing: I think I love you…Wild Plants and the Herbal Industry." 
---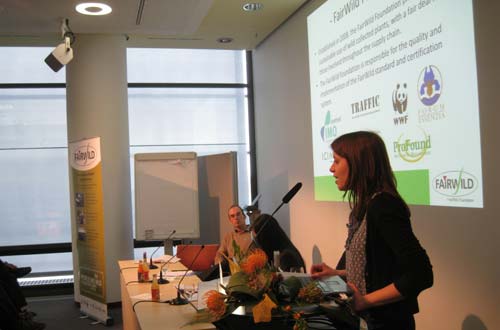 Those attending the "Wild thing" event in Nürnberg, Germany included representatives of collection operations, traders and manufacturers of final products, NGOs, government agencies and intergovernmental organizations. 
"The level of engagement and interest of participants of the Wild thing event demonstrated how the issue of wild collection and ensuring sustainability of supplies has never been higher on the industry's agenda," said Bryony Morgan of the FairWild Foundation's Secretariat. 
TRAFFIC is a partner in the FairWild Foundation and is helping promote the FairWild Standard through its Medicinal and Aromatic Plants programme.
Bert-Jan Ottens, FairWild Foundation board member, set the scene by introducing trends in market demand for wild collected natural ingredients, and the importance of sustainability. 
His presentation was followed by an update on recent developments at the FairWild Foundation by Bryony Morgan. 
Industry representatives shared their experience of wild plant procurement and the use of the FairWild Standard. 
Christina Krug of Martin Bauer, spoke about the challenges and successes of implementing FairWild certification with suppliers. 
Mike Brook of the Organic Herb Trading Company, shared his thoughts on the importance of sustainability for wild collection, and the need for standards to reflect the realities and priorities of trading partners in developing countries. 
The floor was then open for discussion with the audience, who were ready with challenging questions and encouraging comments about the FairWild Standard and certification scheme. 
Topics raised included costs and certification procedures; increasing the accessibility of the scheme through involvement of additional certification bodies; and the need to raise consumer awareness through public campaigns and promotion of FairWild-certified products. 
Traders and final product manufacturers are showing increasing interest in obtaining FairWild-certified ingredients, and in using the principles of the FairWild Standard to develop their own company sourcing policy. 
FairWild-certified operators and traders also offered feedback on how to improve practical aspects of the scheme.
The event was made possible thanks to the contributions of a number of individuals and organizations, and with financial support of WWF Germany.
---
Notes:
FairWild Foundation is a Swiss-registered charity, which promotes the sustainable use and trade in wild-collected natural ingredients. The FairWild Foundation Secretariat is hosted by TRAFFIC International in Cambridge, UK. 

The Institute for Marketecology (IMO) is the accredited certification body for the FairWild scheme, which conducts FairWild audits and issues the certificates. IMO was also involved in implementation of the FairWild Standard in a project with GIZ in the South Caucasus region.
---