Francophone Customs meet in Gabon
Libreville, Gabon, 31st October 2011—Customs officers from 47 French-speaking nations met last week in Libreville, with improved international collaboration and closer regulation of trade firmly on the agenda. 
---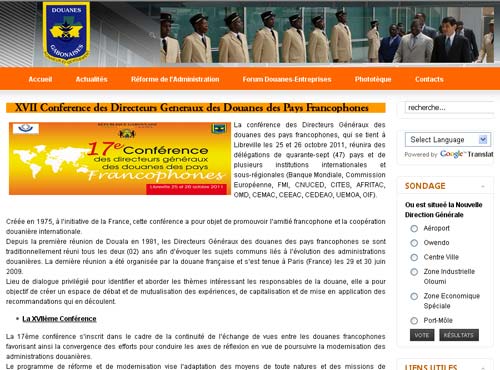 Stéphane Ringuet, Regional Director of TRAFFIC's Central Africa Programme, addressed delegates about the illegal African Elephant ivory trade, particularly in relation to Francophone countries in Africa. 
He highlighted the role of monitoring systems like the Elephant Trade Information System (ETIS) database, which TRAFFIC manages on behalf of parties to CITES (the Convention on International Trade in Endangered Species of Wild Fauna and Flora), in helping identify where action is most needed to address this illegal trade. 
The meeting focused on four key themes: Customs and sustainable development; Trade facilitation—towards a new partnership with the private sector; Customs efficiency and performance; and the implications for Customs of Economic Partnership Agreements. 
It was the 17th in a biennial series of meetings that began in 1981. The meetings aim to ensure good integration and cohesion between countries during the modernization and improvements to Customs procedures underway worldwide. 
In addition to delegates from the 47 Francophone countries, several international institutions were also represented at the meeting, including the World Customs Organization (WCO), the World Bank, European Commission and the International Monetary Fund.
---