Ivory seized during UK and New Zealand operations
Cheltenham, UK, 2nd November 2011—Dozens of pieces of ivory, including two raw tusks, have been recovered in the UK by Gloucestershire Police, working in conjunction with the National Wildlife Crime Unit (NWCU) and the UK Border Agency (UKBA).
---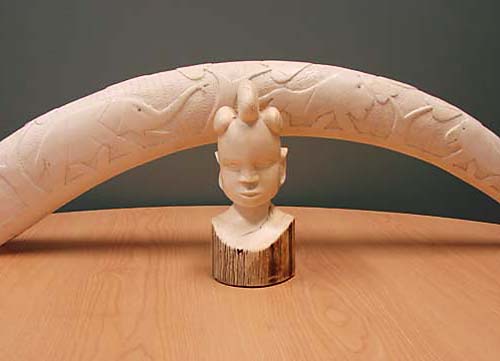 The operation was linked with a search warrant executed simultaneously in Auckland, New Zealand, by officers from the New Zealand Wildlife Enforcement Group. 
During the New Zealand raid around 25 items, including elephant ivory and turtle shell were seized. The pieces found there included carved tusks, six statues and a fan.
In the UK operation, two men were arrested and documents confiscated when police officers raided a house in Cheltenham on 31st October after receiving intelligence on the illegal trading of elephant ivory. 
PC Jon Palfrey, Force Rural and Environmental Crime Officer with Gloucestershire Police, said: "This operation demonstrates how determined we are to work with other agencies across the planet to identify and investigate wildlife crime. Only by doing this can we preserve these treasures for future generations."
Andy McWilliam, Investigative Support Officer for NWCU, said: "Dealing with the illegal trade in endangered species is a national wildlife crime priority. It is a matter of global concern. We are determined to work with our partner agencies both here and abroad to bring offenders before the courts."
---